Texas is the best place to experience the features of mother nature, a big state like Texas offers a diverse array of landscapes and wilderness for both the backpacker and the people who love Camping in the vast wilderness.
So whatever your plan, you will find a campsite that fits your imagination and need. When the time comes, a lot of campers pack up and get ready to treat themselves with nature's canvas.
Then go and explore the wild nature that Texas has to offer, sleeping in nature is the best experience you will never forget. Here are the best and extremely fun places to camp in Texas.
Short On Time? Here is quick list
Colorado Bend State Park
Big Bend National Park
Garner State Park
Guadalupe River State Park
Caprock Canyons State Park
Lost Maples State Natural Area
Palo Duro Canyon State Park
Inks Lake State Park
Davis Mountains State Park
Ray Roberts Lake State Park
Enchanted Rock State Natural Area
Daingerfield State Park
Walleye Park
Pedernales Falls State Park
Tyler State Park
Huntsville State Park
Colorado Bend State Park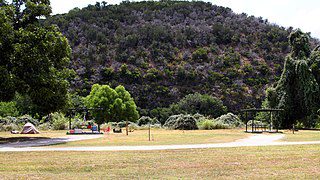 Colorado Bend State Park is the treasure of central Texas, where hikers and campers can explore the tunnels and vast trails of Texas.
This State Park has something for everybody, it has trails that are easy to hike to the swimming holes and then it has some of the most rugged mountains for biking trails as well.
But if you don't want this beautiful bumpy biking, then you can always take a stroll up to the spicewood springs trail, which has cascading waterfalls and swimming holes.
One of the jewels of the Colorado Bend State Park is that you can take a hike to the Gorman falls, the thing that makes Gorman falls more interesting is that it is constantly changing, depending on the what time of year you see it, which makes it more attractive.
Things To Do
Hiking
Fishing
Caving
Backpacking
Birding
Camping
Big Bend National Park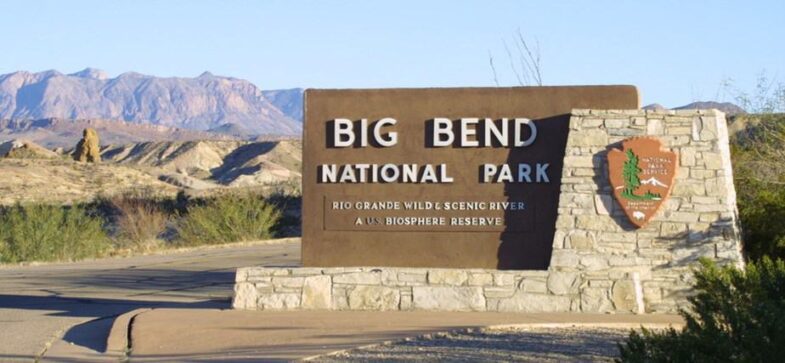 Big Bend National Park is one of the largest national park in the US and natural wonder of Texas, where the sun is very bright, rivers are wild, and the best of all the scenery is drop-dead beautiful.
Big Bend National Park has often been considered three parks in one park since you get mountains, deserts, and rivers all in one place. The park is almost as big as Rhode island with less traffic.
Big Bend National Park is home to over 5000 species, harsh conditions enable the wildlife with unique adaptation to make this inhospitable land their home.
Things To Do
Wildlife
Bird Species
The Rio Grande
The Hot Springs
The Hiking
The Flora – Gorgeous desert Flower
The Historic Sites
Camping
Garner State Park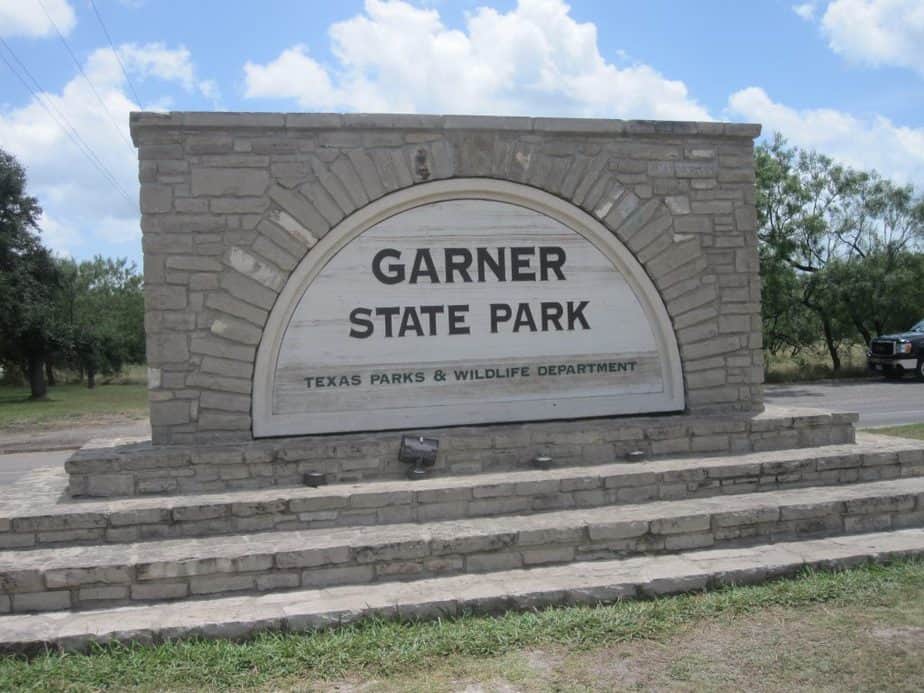 Garner State Park is a unique park in Texas, it was opened as a state park in 1941, and since then, people are coming here to have a memorable adventure of a lifetime.
Parents started bringing their kids to this park, and those kids are now grandparents, and they're bringing their grandchildren to this park.
According to people who visit Garner State Park, there is something magical about this park. Garner State Park is one of the busiest parks in Texas.
Things To Do
Camping
Hiking
Frio River
Nightly Dances
Guadalupe River State Park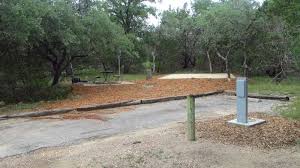 Guadalupe River State Park was built for the public to provide access to the beautiful river. This Park is very close to Austin, it is about half an hour drive and San Antonio only 30 miles.
Which makes it the only state park with the natural area that is located right outside of the city, you can quickly accomplish the outdoor experience.
Things To Do
River
Camping Near Water
Honey Creek
On the short drive from the city
Camping
Caprock Canyons State Park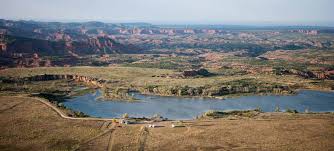 Caprock Canyon State Park is known for its wildlife, Park has buffalo over 120 of them roam through the park, they'll even come through your campsite.
This park has spectacular views and many trails to hit, I advise hitting as many as you can, especially the one with the lookout symbol, you will see a ton of beautiful scenery.
Things To Do
Camping
Beautiful Scenery
Diverse Wildlife
Hiking and Mountain Biking
Horseback Riding
Lost Maples State Natural Area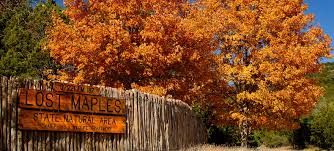 Lost Maple State Natural Area, is just gorgeous with the amazing color change, thousands of people visit Lost Maple State Natural Area in the fall to see the foliage change. Change of season in this park can be a treat to the eyes.
Things To Do
To Witness the beautiful change
Camping
Hiking
Fishing
Birding
Palo Duro Canyon State Park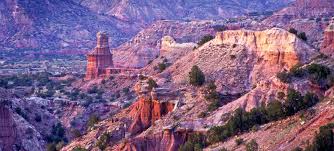 The Sun rising, cactus mingling with mesquite, all the gorgeous beauties of the earth, here the history is written in the rock by water and wind, waiting to be explored.
People call it grand canyon of Texas, its the second largest canyon in the united states, its a 120 miles long 25 miles wide, up to thousand feet deep in certain areas. Unlike grand canyon, you can drive into this canyon, and you can become intimate with it.
Things To Do
Shop the Canyon Gallery
Hiking and Biking
Bird Watching
Nature Study
Horseback Riding
Texas Musical Drama
Camping
Inks Lake State Park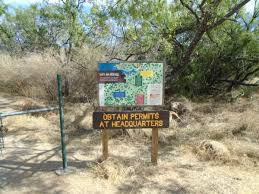 Ink Lake State Park is a fantastic park that is located just outside of Burnett Texas. This is a great park for several different reasons, you can go hiking, and checking out just some different waterfalls.
They aren't huge waterfalls, but they are pretty awesome, especially when the water is flowing. A great Park for biking, getting out, kayaks canoes, paddleboat.
While you are at this Park, make sure you check out long horns caverns park, just right down the road, its a cave system, 15$ for adults and 10$ for children, if you are going in the summer, this is something you can do, because, it will be nice and cool because you are down underground.
Things To Do
Waterfall
Caves
Swimming
Hiking
Fishing
Boating
Scuba Diving
Grilling Picnic
Camping
Davis Mountains State Park
In Davis Mountains State Park, you can experience the wildlife of the park, which can be seen normally while hiking or bike riding. This Park mostly attracts hikers, bike riders, and horseback riders. If you aren't a hiker or bike rider, you can still experience the calm and beautiful nature of Davis Mountains State Park.
Things To Do
Hiking
Backpacking
Equestrian Trails
Mountain Biking
Relax
Camping
Ray Roberts Lake State Park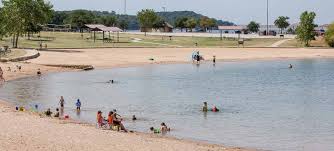 Diversity of the Ray Roberts Lake State Park makes it special, you can do variety of thing here or just relax and chill out in the calm beautiful nature of the Ray Roberts Lake State Park. You can hike, bike and camp here all in one weekend, there are many extensive trails, and overall this Park is great.
Things To Do
Camping
Hiking
Biking
Fishing
Boating
Enchanted Rock State Natural Area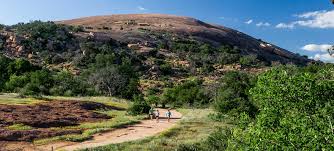 In Enchanted Rock, there is a medallion and its the highest elevation of Enchanted Rock, and a lot of people take their family to put their foot around this medallion to take a family photo.
This is a lot of fun to climb there are several different ridges out there, that you can explore and its a lot of fun. Enchanted Rock is a great Park to visit, So get out there and make lots of memories and have lots of fun with your family.
Things To Do
Hiking
Birding
Views at E-Rock
Camping
Daingerfield State Park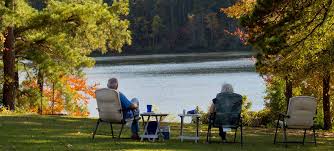 Daingerfield State Park located deep in the pine and hardwood forest of northeast Texas. You will like everything about this Park, Trees, Foliage in fall, swimming in summer, you can relax under the towering trees of the Park.
This Park is best for Fishing, canoeing, boating, and swimming for all ages. In the Park you will have the opportunity to see the wildlife of the Park, many people visit every year, especially for the fall colors, seasons make people come back to see the colors of the Park.
Daingerfield State Park is a must-visit, you should visit this Park with your family and create wonderful memories.
Things To Do
Fishing – great for fishing
canoeing
boating
swimming for all ages
Camping
Walleye Park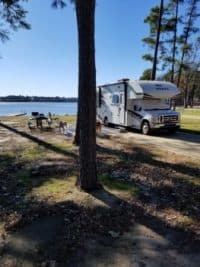 This Park has some great scenic views, as far as sunrises, and sunsets. Walleye Park is totally surrounded by water, its every single camping spot backs up to the water.
This Park has a three-night minimum reservation, keep that in mind, they are gonna automatically charge you for three nights. Their water pressure for filling tanks is great it will fill up tanks very quickly.
This is a fantastic Park, and this Park is more of a summertime Park. Walleye Park is a great place to visit with your family. There is no entry fee, you can easily come and go, your friends can visit you they won't charge you for that. This is a pretty fun place to camp.
Things To Do
Pedernales Falls State Park
This is a great Park and there is no playground here, because the river is playground for visitors. There are many beautiful falls that makes it a great place to bring your family and have a great time. They don't let you swim in these falls because it is dangerous. The Water pressure is fantastic they fill up your tanks quickly. It has lots of canyon views.
Things To Do
Find Geocaching – Game
Find Armadillos – Animal
Hiking
Camping
Tyler State Park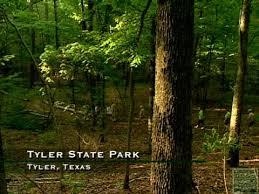 Tyler State Park is located in east Texas, about an hour and a half from Dallas, and hour and a half from Shreveport. This is a beautiful Park with a lot of rolling hills. It has an awesome lake you can do fishing here fishing is really great, but don't get your hopes high because fishing is tough here.
There is a lot of traffic because it is close to two cities, so you should book way in advance. It has some incredibly good mountain biking trails, a lot of people come from a long way to ride these trails. It has a store on the lake and a convenience store just outside of the Park.
The staff is super friendly, and knowledgeable and always willing to help. It has a great playground that has a rubber matting all underneath it So kids can run around without shoes on.
The only negative thing (which is not negative) in this Park is Raccoons, if you turn your back to them, they will take your stuff like chips, etc. Tyler State Park is the crown jewel of Parks in east Taxes.
Things To Do
Fishing – Fishing is great
Hiking – Easy for everyone
Swim
Camping
Huntsville State Park
This Park has a lot to offer, it has a good-sized lake, it has a lot of lake activities, there are tons of canoes, and kayaks that you can rent. It has tons of trails as well, it has over 8 miles of trails. In the Park, water pressure to fill tanks is very good, it will fill up tanks quickly. There are three different playgrounds. There is lot to do in this Park.
Things To Do
Camping
Canoes
Kayaks
Hiking
Trails
When is the Best Time to Go Camping in Texas?
This would totally depend on you when you are most comfortable, and which season you like the most. If you are comfortable then the camping is fun activity.
Some people get uncomfortable at high temperature, so they avoid going camping in in hot season, they prefer coastal areas or high altitude areas to camp in summer.
Many people don't like rainy weather and consider it bad for camping, but if you are all protected and have the necessary gear, then rainy weather isn't an issue, you can go camping in rain.
For most People, Spring is the best time, because of all the greenery to see and beautiful flower everywhere makes the camping memorable. In spring many stat Parks looks beautiful because of the change in nature going on.
It really depends on your taste, the weather you enjoy at home is the weather you will enjoy while camping. Make a plan to go camping when you think you will be happy and comfortable.
Here is some more information about Texas