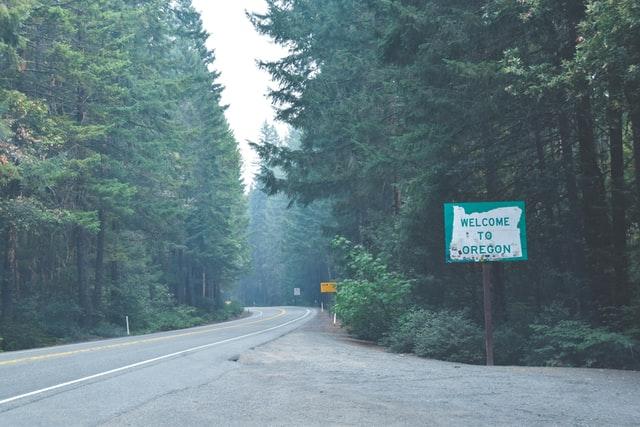 There is always a lot to see in the 10th largest state of America; there is so much to see that you may not be able to see in one lifetime. Oregon's beauty is unique and breathtaking; there are many volcanic mountains and beautiful coasts to keep you amazed on your journey.
Short on Time: Here is Quick List
Crater Lake National Park
Florence
Heceta Light House

Cape Kiwanda
Devil's Punchball
Cape Meares
Cannon Beach

Multnomah Falls
Larch Mountains
Toketee Falls
We will check out some adventurous, and some of the best places that you need to put on your list when you are in Oregon. This will be a fantastic experience for you, and let's get started here are five of the best places to visit in Oregon.
Crater Lake National Park
You will see nothing more spectacular in the state than this amazing Crater Lake; you definitely need to put it on your list.
If you have the courage required to jump, you may even want to jump in the 55-degree water. So that you can tell your friends about it; because jumping in this water will be a memorable experience.
While visiting Crater Lake, make sure you do the watchmen's trail here all the way to the top and look at the views from there. It is the highest point where you can see the whole lake.
It is tremendous, and I definitely recommend that you experience these amazing, breathtaking views with your eyes.
Florence
Next on the list is the town of Florence it is just a fantastic place to visit.
It has some great little shopping areas down by the arena. These are right on the water, and there are plenty of restaurants that are very, very good.
This is just a quaint small town that you will want to spend a little bit of time in.
The main feature that you want to take in when you are in Florence is the dunes.
You want to get out there and ride on the dune buggies. It is just amazing and one of the best experiences you will have, it is just awesome.
Heceta Light House
Heceta Lighthouse is impressive, and the beach leading up to it is just amazing.
There is an excellent walking trail up-to-the lighthouse itself, and of course, the views from that point are just spectacular.
You really need to make sure that you put this on your list. Oregon coasts are some of the places that need to be on the bucket list.
You will enjoy your time on the peaceful beach, and you can normally find starfish or other ocean creatures on the beach hanging around with their buddies, just kidding. I mean you will find a lot of things to see on the beach.
Cape Kiwanda
As you explore the Oregon coasts, you will love the bridges that you get to go over. And one of the places that you will enjoy is Cape Kawanda.
You should visit this place just to see the amazing Haystack Rock on the beach, and that is amazing.
Devil's Punchbowl
Devil's Punchbowl is something I would definitely put on the list, especially if you are able to hit it at low tide.
This is because at low tide you can walk right through, and you will experience some magnificent scenery.
Definitely take advantage of the pullovers, because you will see some of the fantastic views that are available. Just from doing that, as you make your way up to the Oregon Coast, so you should definitely take that in.
Cape Meares
One of the next stops that you should make is Cape Meares there is a gorgeous point with the lighthouse and the scenery is outstanding, so make sure it is one of your stops.
You will love a hidden gem that is on this oceanside beach. There is a little cave, you can take at low tide, and you come out at a local favorite called Short Beach.
It is one of the most amazing beaches you will see on the whole Oregon coast, and you should check it out.
Cannon Beach
And then, of course, no trip is complete without checking out Cannon Beach. This is just a great vantage point from one of the pullovers as you approach it.
Then take the walk up to the Haystack Rock it is awesome, this is something you should do when you are there.
Multnomah Falls
Take a short ride into the Portland, check out the waterfront there, and then you should also check out famous Voodoo Doughnuts of Portland. Now it is time to visit next place on our list Multnomah Falls; this is just spectacular. It is voted as the number one attraction to see in Oregon and for obvious reasons, but it is just incredible.
It is really hard to capture the whole waterfall in one pic, you really have to see it yourself, genuinely amazing, and this place absolutely needs to be on your bucket list.
Crown Point
After checking out Multnomah Falls take a scenic drive up to the Crown Point. It is a great way to see the whole Columbia Gorge from that vantage point, and it is just spectacular.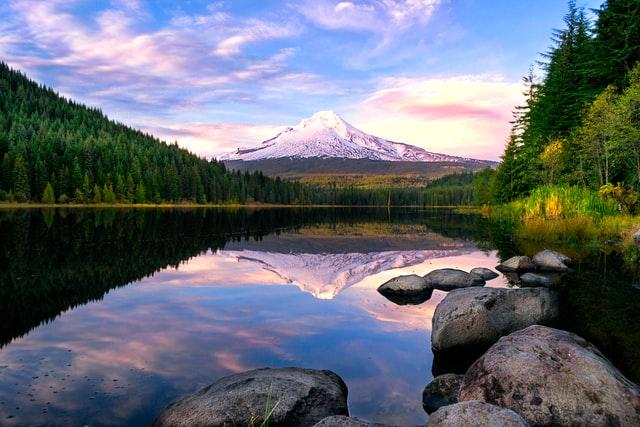 Larch Mountains
Then Crown Point will lead you to the next bucket list item which is going to be driving up to the larch Mountains, through the National Forest. The drive itself is spectacular, you will enjoy your ride through this beautiful forest.
This will lead you to the Larch Mountain, where you can take the small trail up to a vantage point and have one of the best views you are ever going to see of Mount Hood.
You can actually see five mountain tops from there, but the most obvious one that people come up here is to see Mount Hood, and on a clear day, you can see how amazing it is from that vantage point.
Toketee Falls
Of course, no bucket list is going to be complete; if you can't see some of the waterfalls in Oregon, so you will love Toketee Falls.
This waterfall is about 30 minutes outside of the national lake park. So it is in the same proximity there, there's also another waterfall nearby called Watson Falls. So you can hit a few of them on the same trip while you are there.
The one you will love the most is called Salt Creek Falls; the drive to that falls is also incredible. This is one of the most pleasant surprises that you will find in the state because not much is available on it.
But Salt Creek Falls is so amazing because you can also take the trail all the way down toward the bottom to check it out.