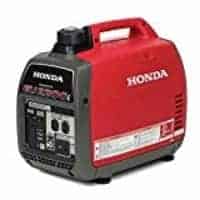 This popular model can operate a wide variety of appliances, making it perfect for portable use at home, camping, on the job site, or much more. Reliable Power is now at your fingertips with Honda's Inverted Generators.
So quiet, your neighbors will thank you. The EU2200i operates at 48 to 57 dBA, which is less noise than a normal conversation. This makes it ideal for camping, supplemental RV power and any other activity that requires quiet operation.
Add a second EU2200i for additional power. Two identical models can be paralleled with an optional cable or cord for up to 4400 watts of power, or time-consuming applications.
Thanks to our exclusive Eco-Throttle System, the EU2200i offers great fuel efficiency. Runs 4.0 to 9.6 hours on a single tank, depending on the load. This makes it the ideal choice for overnight power, or long-time applications.
Honda's inverter technology means stable, clean power in a smaller, lighter package. The precision of Honda's inverter technology ensures our inverter generators produce power that is as reliable as the power you get from your outlets at home. You can check the prices below
.
Champion 3100-Watt RV Ready Portable Inverter Generator with Wireless Remote Start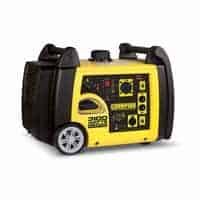 This is the generator I use because it is remote start which makes it nice for me as I am on oxygen 24-7 and this way I don't have to go out and start it. It is as follows
Wireless Remote Start – Included key fob allows you to start and stop your generator from up to 80 feet away

Convenient electric start with 3-position ignition switch – Battery included, plus Quick Touch Panel allows you to access all your controls in one spot

Frequency: 60 Hz. Clean Power for Sensitive Electronics – RV Ready with a 120V 30A RV, plus two 120V 20A household outlets with clean electricity (less than 3% THD) and 12V DC outlet with dual USB adapter

Ultra-Quiet Operation – 58 dBA is perfect for RVs, tailgating, your next project or backup power for your home, featuring 3100 starting watts and 2800 running watts with up to 8 hours run time at a 25% load

Champion Support – Includes 3-year limited warranty with FREE lifetime technical support from dedicated experts You can check the prices below.