Travel by RV can be a jaw-dropping experience as you are encountered with many mesmerizing sites and activities to do and enjoy.
Possibly, either your trip has taken longer than expected, or you haven't reached your overnight camping site. So, whenever you are going to face such situations and don't know where to spend the night, Walmart offers a solution.
This is one of the most frequently asked questions, "Can I camp in a Walmart parking lot?" Or "Can I stay overnight in the Walmart Parking lot?" So, this article explains when you can or when you cannot stay overnight at Walmart. You'll get to know about all the facts and some tips for a safe and enjoyable night.
Camping At Walmart
Big RV's are usually seen at the back of a Walmart parking lot. It might have been there overnight, as overnight parking is allowed at Walmart Parking lots worldwide.
In the U.S, there are more than 5000 stores, Walmarts are pervasive on the open road. Fortunately, the people who are driving RVs on the road are welcomed by Walmarts so they can stay overnight at the parking lot at their stores. This is advantageous for most of the road-trippers for many years.
Walmart: An Example of Courtesy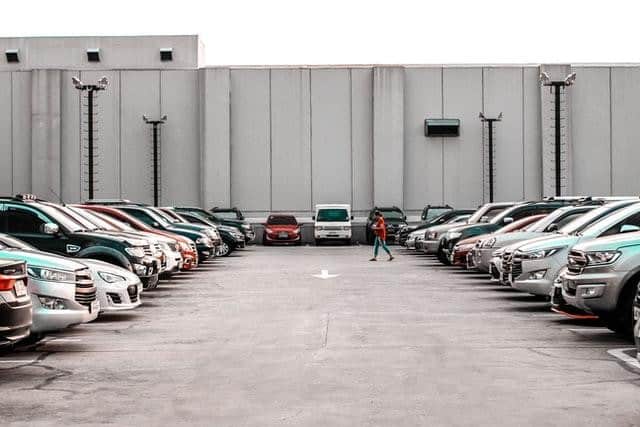 RVers are welcome to stay overnight at Walmart locations. Walmart also promotes it on their website, stating:
Walmart appreciates RV travelers and counts them among our best customers.
The founder of Walmart, Sam Walton, recognized that RVers are a large part of their customer base. Those customers are invited to stop for the night while on the road. On the company's website, there is the official policy for Walmart overnight parking.
Do All Walmarts Allow Overnight Parking?
Not all of them, but mostly Walmarts stores, allow RVs to park overnight. According to some RVers, only Walmart Supercentres allow overnight parking at their lot.
But some regular Walmart stores allow overnight parking too. Some individual Walmart stores have changed their policies regarding overnight parking.
For example, many stores where parking was allowed for years, suddenly do not, due to change in policies.
Some stores that were not permitting parking for years have suddenly changed their policy. Now, they are allowing RVs to park overnight.
There is no exact reason for allowing overnight parking or not. They just made their policy and implemented it.
Which Walmarts Allow Overnight Parking?
Despite Walmart's Policy, all the Walmarts do not offer overnight parking. According to Walmart company policy related to RV overnight parking, it's essential to check and confirm whether parking is allowed.
Some Walmarts allow overnight parking while the city might not. So, this means you must check local city ordinances about overnight parking policy.
There are some signs also available in the Walmart parking lot that might suggest no overnight camping.
How Can You Locate Walmarts Allowing Overnight Parking?
There are different ways to locate which Walmart stores allow overnight parking and which stores do not. Walmart Locator is one way to find out.
By this site, you can click on a state and then click on a particular store location.
Method to Find Walmart RV Parking Near You
Just open the Walmart app. Yes, you won't believe, there's an app for this.
Surf for a Walmart with "Possible Parking" on your course within an appropriate distance relative to be overtired.
Read user reviews of this parking lot and select the desired destination. Find other RV's in the Walmart car park, if any, stop and set yourself there.
What will you do if your app says there is parking available? But when you go to the respective parking, the parking lot signs say no parking?
Users maintain the app for your information, but the store keeps up the parking lot.
If you are ever concerned or confused, go to the manager on duty and make confirmations. Many places will have signs of "no parking," but it will let you park. But make sure to thank them by purchasing something.
Allstays is also a useful app to find Walmarts where an overnight stay is allowed.
Perks of Staying Overnight At Walmart?
Many RVers and some truckers love to stay overnight at the parking lot of Walmart. But how is the experience of staying there? As it is a very famous location so you will likely see other RVs there spending the night.
Staying overnight at Walmart's parking means the following:
Free space for parking overnight where you can sleep safely.
Availability of clean bathrooms that are open all night.
A convenient place to pick up some necessary items.
Let's suppose everyone has asked the manager for permission. Most of the RVs will be parked in the same area.
But everyone does not do this; This is why you might see one or two RVs in different parking lot regions.
Your RV must be self-sufficient. Since there is no electricity facility, some people may run their generator overnight, and its noise may disturb you.
The parking lot will probably be blooming, and you can expect it to be bright. The reason is you may be asked to park in a well-lit area.
Make yourself ready as you may hear some road noise while staying at a Walmart. There could be noise from tractor-trailers that are rolling in to deliver goods.
There is also a possibility that RVers may pull in at any hour of the night. If Walmart is at the side of the highway or a busy road, then possibly there will be road noise.
There are many benefits to staying overnight at Walmart:
Staying there in the parking lot is free of cost. There are no charges for it.
If you are staying there, then you don't need to worry about your grocery items or camping supplies while you are there.
There are many Walmart locations, so you don't need to go out of your way to find one.
Most of the Walmarts are near to restaurants, gas filling stations, etc. You can fill up your fuel or grab a meal while you are in the Walmart location.
So, staying overnight at a Walmart is a very feasible way to save your time and money on your RV travels.
The Do's and Don'ts of Overnight Parking at Walmart
Abide by all rules and regulations of any signs that are posted. Before leaving the parking lot, make sure that the area where your RV was parked is clean.
Don't disturb and irritate others by unloading grills and chairs or running a generator all night.
You might want to be detached and not want to overstay. Avoid using hydraulic jacks on soft and smooth surfaces. Also, avoid using your slide-outs if possible.
As a thank you treat, it will be good enough if you would purchase any food, gear, and other items that you need at Walmart.
It is not okay if you park in a Walmart parking lot because you see another RV parking there.
Always make sure with the store manager. Avoid utilizing excessive space in parking lots and not taking up unnecessary room.
Show Some Courtesy When You Stay Overnight
Although most Walmarts allow overnight stays in their parking lots. It is essential to be a good butler in these areas so it results in a continued practice.
As this is dry camping, that means there won't be electricity, water, dump stations, or other such facilities.
Keep it in mind that you will park in the area and space that has been designated. Stay for one night only as this is not a campground. Make sure that you are kind to the employees of Walmart.
Tips For A Good Experience Walmart Camping
Following are some rules of etiquette and ethics that you must follow while staying at Walmart:
Ask For Permission From Authorized Person
If you are planning and staying overnight at the parking lot of Walmart, check with the authorized person responsible for allowing you.
When you reach your destination, introduce yourself to the Walmart manager and security guards. Get help from them to know where to park.
Stay For One Night Only
Always try to stay for one night only. Never extend your stay. It is better to leave early the next morning, so you don't overstay your welcome. It doesn't seem right if you plan to stay for a couple of nights. Avoid leaving your trailer there unless you've gotten permission from the manager.
Avoid being the cause of disturbance for the store and its customers. For this purpose, try to arrive as late as possible in the day and leave early in the morning.
This is a way that you won't be noticed by anyone that you've even been there.
Abide By Posted Rules And Regulations
Wherever you go, you must follow the rules. The same goes for Walmart. Ask the manager about the rules you need to follow. For example, you may ask if you can lower your stabilizer jacks, extend your bump-outs, or run your generator.
If you are running a generator, then follow the timings observed for it, mostly between 10 pm to 8 am. Don't run your generator after 9 pm.
The best thing will be if you will go for solar. It will save the expense of fuel and avoid causing a disturbance. Even Walmart has been working toward using renewable energy over the past decade.
Purchase Gas, Food Or Supplies As A Token Of Thanks You If You Need Them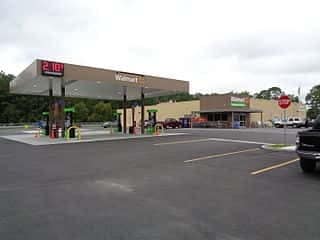 Walmart is kind enough that it allows you to stay there, so if feasible, buy a few of the items you need at Walmart.
Visit the store and purchase something. If you're going to use the bathroom, grab a bag of ice, a food item, or anything you want. This will show courtesy. It will be a small token of appreciation and a thank you from your side to the store.
Clean Up Your Trash.
While overnight staying in Walmart, it's your responsibility to clean up your trash. Don't throw your garbage outside. Instead, dump it into a garbage bag.
Take proper steps if you have any pets. If outdoors, then keep all of your pets on a leash or in a kennel.
No Outdoor Grillings or Awnings.
Make sure that you do not extend your awning and sit in the parking lot. There is no need to have a barbecue grilling or use an outdoor kitchen in the parking lot. It is against the ethics of such places.
Park Away From The Store
Always observe the traffic pattern in the parking lot. There is still usually a place where most people drive in, around, or out.
It is better to park away from such an area. The reason is for you to get a night of better and more peaceful sleep.
Try to park far away from any tractor-trailers. They usually idle and turn on their engines all night to power their units. It is better to park near the other RVers but make sure that you are not parking too close to them.
Choose to park your RV near a street light. Use blackout curtains or shades or a sleeping mask if the light bothers you and disturb your nap. However, the store's Garden Center is the right place for parking unless it is near the loading dock. In such cases, avoid it. Walmart trucks arrive all the time of the day and night, so that may disturb you.
Generator Is Must
Once you have parked up your RV, you have a very little chance of accessing electricity. So if you want to turn on your LCD TV, microwave, coffee maker, or toaster you need a generator.
Keep in mind, however, that some of these generators can be a bit noisy. At least try to choose one of the quiet runners to avoid upsetting and irritating the other campers, Walmart customers, and residents.
Also, do not run the generator overnight. You could have some angry people knocking on your trailer door in the morning.
You Can Find the info on the best portable inverter generator for RV at generatorrookie.com.
Limit Yourself to Your RV
You were allowed a parking space, not the entire recreation area. Don't take liberties with the outside areas.
This includes not:
Extending your Canopy.
Using your slideouts.
Sunbathe in the parking lot.
Firing up the grill or using the outside kitchen.
Play soccer – or any other sport.
Take Care Of Others All The Time
Just because you are away from home and having a great time, those around you may be just carrying on their daily activities.
Make sure your actions have the least impact on those around you, whether they are fellow campers, colleagues, or residents.
Keep Noise Levels Down When Inside And Outside Of Your RV.
You are having a fabulous time during your trip and you would like to listen to music to increase your enjoyment level.
But while overnight staying at Walmart, there will also be other fellow campers, employees, or residents. They will be moving and staying around there.
So, it is your responsibility that no loud noise comes from your RV try to keep your volume as low as possible.
Avoid Using Hydraulic Jacks
While staying at Walmart overnight, avoid using your hydraulic jacks on soft surfaces. These jacks can cause damage to the pavement and make it rough. It may also leave marks on it, so avoid using them there.
Be Careful About Your Safety
While you will stay overnight in the parking lot of Walmart, there will be RVers too. Other than this, there will be the hustle and bustle of the local public, employees, etc.
In case you don't feel safe despite the presence of guards, you are not getting a parking place of your choice or in the light, and you are uncomfortable with the parking lot. It is better to leave the site, as safety is above all.
Why Would Walmart Deny Overnight RV Parking?
There are several reasons why Walmart does not allow campers to park overnight. Recently, local cities have begun to abide by rules and regulations prohibiting parking at night. So if Walmart is in that jurisdiction, they won't be able to allow parking overnight.
Another reason is security concerns. Walmart managers generally do not allow overnight parking in high crime areas. This is a good idea, because most RVers have money while traveling, making them a desirable target for criminals.
Other than this, homeless people have started living in RVs. They park at Walmart because it's free, and then their stay becomes longer than expected. Some of these people ask for money and make a mess in the parking lot.
If this happens too often, Walmart may have no choice other than closing their parking lot to RVs to prevent the homeless problem.
Conclusion
Camping at Walmart Parking lot is cheap, easy, and very convenient. Always make sure that the store of your choice permits an overnight stay before you settle down for the evening.
Following the tips above will not only entertain you but also ensure that Walmart justifiably allows campers to stay overnight. Thus, others will enjoy this facility, and it gives the right name to outdoor enthusiasts.