Fun RV Accessories: Fun Accessories to Have In Your RV
Every camper would love to have an RV, but what is the fun in having an RV if you don't own any fun RV accessories.
RV's should have specific accessories that can help provide a complete and comfortable environment, and you will love some of these fun accessories
If you want to travel with grace, flair, and elegance, then it is necessary to polish it with some style. You might need to upgrade a few of these over time. What if you add some flavor and some fun via specifically designed accessories for RVs that are feasible, cute, and attractive, and more importantly, they will be fun.
1. Fun RV Interior Accessories
For a fantastic trip, you should decorate your RV with some accessories that will be fun and comforting for you. Make Rv feel like home and have as much fun as you can and make some memories.
The following are some RV camper interior accessories, which will surely help you make every camping trip memorable and everlasting.
i. RV Travel Map
Our life is so busy and full of responsibilities. In this scenario, it is essential to refresh your mind by planning vacations.
And when you have an RV travel map in your fully furnished RV, then it will limit your search to those locations only that meet your specific needs.
You can mark off the states that you have visited. The colorful stickers on it acknowledge landscapes and landmarks of each state. So, when you plan to go for your next trip, then it might give you some ideas.
It has thick border lines for efficiently placing the stickers with the names printed on each label. It will also help the kids in learning.
Other than this, the map can be placed in an exterior window or sidewall, so it is made UV protected, and the adhesive will not mutilate the surface.
The best thing about this map is that it can be glued flat, so you don't need to be worried about curling edges.
ii. Enhanced Pillow Covers
These pillows have the design-related to travel on them that you will like.
These zippered covers are beautiful and adorable and are removable and can be switched out whenever you wish to. These covers can be bought in pieces so you can utilize them to cover existing square pillows.
RVs are known for florals and colorful patterns on their stuff, which will add a more modern feel to your space. They are easy to wash in a machine, which is a must for camping with children or pets.
iii. Personalized RV Signs
You will feel like you are at your home sweet home when your name is written on the wall. These personalized RV signs serve as icing on top of the cake when added to your rig. It varies in size.
It has three sizes, so you should be able to put it inside or you can place it outdoors. The corners are round in shape for safety purposes. They are rounded to prevent you from getting cut on sharp metal edges.
The sign RV's are customized for different types of RVs. Figures can be put in different positions. Different colors can be chosen for the signs. Text styles and designs of RV are of your choice.
iv. RV-Themed Dinnerware
If you are the owner of an RV, you might want to invest in a set of specific RV dishware. So you don't need to clear out your kitchen cabinets each time you're planning for a vacation.
And since there is a constant motion when it comes to RV camping, you should have unbreakable dinnerware.
They are readily available in RV-Themed designs, which are much more attractive and give you the feeling of a vacation.
v. RV-Themed Dish Towels
You can refurbish your RV lifestyle to a fully-functional kitchen. But a fully-functional kitchen means cooking up full meals which can also mean a kitchen sink that sometimes gets filled with sticky and greasy dishes.
No-One would be willing to do a full-time kitchen job while on vacation. It won't be on anyone's fun vacation activities list, so using RV kitchen towels can quickly dry them. These towels are readily available in different colors and designs, which are ideal for your travel style.
2. Fun RV Accessories For Outdoors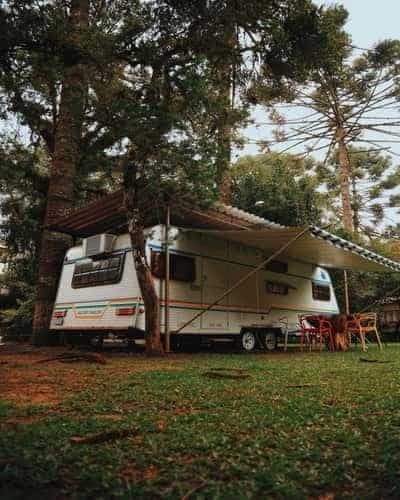 RV must be updated according to outdoor needs. Otherwise, its upgrading wouldn't be completed without getting some outdoor gear. The following are some of the fun RV accessories for improving your outside experience.
i. Inflatable Lounger
RVing is all about the outdoors, so you might want to have an inflatable lounger with you. They are good for hiking, traveling, and camping.
There is no need to keep an air pump with you all the time and can be easily inflated so that it will give you a feeling of relaxation.
Some have two pockets to keep your magazines, newspapers, or books all the time. They are light in weight and are very comfortable.
They are strong enough to carry even us overweight people because everyone has a right to enjoy their camping vacations.
ii. Outdoor Rug
If you want to enjoy nature, without worrying about tracking in mud and dirt then having an outdoor rug is for you.
These can give you peace of mind because you won't have to spend all of your time cleaning up.
If that is what you want then the outdoor rug is for you it is manufactured from 100% recycled plastic. It is durable and long-lasting and resistant to mold and can't deform itself.
The best thing is it has a certification that it was weaved by adults, not by child labor.
These rugs are not waterproof but they are water-resistant. It absorbs a small amount of water and It is also effortless to clean.
It weighs only a few pounds and is available in four different sizes. One other additional advantage is that you may even use it inside your RV.
iii. RV Awning Screen Room
If you have less space in your RV, then a screen room is an alternate way to increase your area to the outdoors. It can also help in keeping out bugs too. It is tightly sealed from all around.
It has screened windows with roll-down shades that protect you from the sun's rays and helps to with your privacy. The size of your living area will be greatly increased, and it all depends on how big you are able to get..
It only requires an outdoor rug, which gives the same outlook as a sunroom for your RV. For setting it up, it does not require any drilling.
It will just connect to your awning using the existing tools. It varies in sizes between 12 and 21 feet so that it can be matched to your awning's width.
iv. Folding BBQ Grill
The sturdy quick-fold legs and wheels make it easy to set up and take down and carry so taking your grill on a camping trip is easy.
It has an ignition button for matchless lighting. Then you can select your heat with 3 independently adjustable burners (left, middle, right).
The cast iron grill grates are coated in porcelain for easy cleanup. If you're looking for more meal options, you can switch the grill grates with a griddle or stove grate (they are both sold separately).
It also has two sliding side tables to keep your utensils and sauces handy. Cooking with this grill is just as easy as traveling with it.
Bonus: This Grill can be stored upright or lay flat. They use a 1-pound propane cylinder (sold separately). Buy On Amazon
v. RV-Themed Fairy Lights
These tiny and cute lights are safer for both indoor and outdoor use. It all depends on whether you prefer mini RVs, bottles, chili peppers, cactus, fuzzy dice, or patriotic-themed lights.
There are many other various types of fairy lights as well. This eight feet long strand contains ten items.
You can also connect them together as well. Lights are covered with plastic instead of glass, so it won't break when you happen to drive down a bumpy road in your RV.
3. RV Electronic Gadgets
In today's modern technology world, people never forget to bring their electronic gadgets while RVing. The following are some of the devices that you will find very interesting and would love to carry with you on camping.
i. Lithium Generator
Generators are usually very heavy, noisy, and smelly. But this lithium generator is very different. It is available as a 500-watt generator and works silently using lithium batteries.
It weighs about 14 pounds. Its size is about 12 x 8x 10 inches. You can charge it with a 12V car charger. The warranty for the batteries is up to one year.
Connect it with a solar panel, and you can charge it. It has 3 USB ports and one 12 volt outlet and, one 110 volt plugin so everyone can simultaneously recharge their electronics at the same time.
ii. Satellite TV Antenna
Nowadays some RVs have the latest technology TVs using it with an old TV antenna attached to it. Satellite antennas are used when you are traveling in your RV. This antenna can be set up on the roof or the ground.
It can be used with DISH and DIRECTV as well. Unlike at home, this roaming satellite needs to reset with each new location. Luckily, this dish does so automatically.
iii. Mini Espresso Machine
Espresso lovers, there is no need to choose between plain old coffee or a bulky espresso machine while on the road. This mini espresso machine is almost to the size of a thermos and weighs less than one pound. It takes any ground coffee. It has its own coffee scoop and even a cup.
The pod is built-in, so no need to buy and carry expensive pods that you just have to throw out later. You don't even need electricity to make your espresso. What you need to do is just make a few quick pumps.
Fun RV Accessories You Don't Want to Miss.
You spend a lot of money to make the RV look just perfect, but don't forget to take some goodies. The following are some fun RV accessories that don't necessarily have to live on your RV.
RV Earrings and necklaces
It can also be that you might want to groom yourself with earrings, which embellish you and brings out your personality. In case your ears are not pierced, then wearing necklaces is the best option with stylish and attractive designs. You can check them out here on Amazon
RV Picture Frames
Only the memories remain, that you created during that trip, of course.
Your precious memories can be kept in frames on your actual RV or at home, where you can better look forward to the next adventure.
Nowadays, most of our photos live in digital space on social media or in our phones, forgotten. So, you must take out those memories and display them in a frame that fits. you can check them out here on Amazon
Will These RV Accessories Work For My RV?
You need to be careful about putting too much load on your towing vehicle if you own a towable RV. Be cautious about the size of each item. Never store something loose inside your RV while traveling.
It could get damaged or damage the inside of your RV. So before purchasing anything, check its dimensions against measurements you take of your storage compartments.
Make sure you always have a designated place for everything in your RV. It does packing and unpacking for trips much more comfortable.