If you are an RV traveler, you know how vital kitchen space is; we should have the only relevant and necessary item in the RV.
Unnecessary accessories in the kitchen occupy precious RV space, so we want to have accessories that are important and can be helpful in our journey of adventures.
In this article, I will tell you about must-have RV accessories and some essential tips for the RV kitchen that will help you make your RV kitchen more productive and comfortable. This article will be super helpful and don't forget to read tips.
Quick List:
RV Kitchen Accessories
Instant Pot
Berkey water filter
Cast-iron Pans
Immersion Blender
Collapsible Strainer
Collapsible Measuring Cups
Knives With Cover
Stackable cups
Rollable Drying Rack
Steel Containers
Camping Utensils
Large Enamel Stock Pot
Dishes
Paper towel holder
Nonslip shelf liner
Over the pantry door storage
Glass leftover storage containers
1. Instant Pot
This makes a quick delicious meal. The Instant Pot is becoming popular among RV owners; it saves a lot of space by multitasking, it works as a slow cooker, Rice cooker, pressure cooker, and streamer. Because of its multitasking, the Instant Pot is the best, and must-have RV accessories where multitask tools save space and space is essential.
Instant Pot is totally safe to use; it has many safety mechanisms that save from any unpleasant situation. These mechanisms are built-in and automatic; that makes it super safe and reliable.
It comes in different models and sizes, choosing model and size is totally dependent on your need. So make sure you choose the right one that you really need in your kitchen.
See Price on Amazon
Some Delicious Recipes for Instant Pot
2. Berkey Water Filter
Full-time RV living isn't possible without clean water. When you are on the road all the time, you know how important clean water is sometimes you don't find clean filtered water and some areas have infected water.
Berkey water filter is the best must-have RV accessory for travelers. And don't worry about the taste of water, clean water always tastes good.
It is a little expensive but totally worth the money because it lasts for a long time, even if you use two-gallon water per day. I will recommend buying this water filter before you go traveling.
See Price on Amazon
3. Cast-iron Pans
If someone makes a list of essential kitchen accessories, he will not forget Cast Iron Skillet. You can use it for baking and making eggs, they aren't heavy, and they don't occupy much space, and you can easily store them.
These are available in different types; you must choose only the space-saving multi taking pans, always try to buy multitasking tools they save space and money.
It has very minimal clean up involved, and you will enjoy the excellent cook, and you can use it inside the camper; also you can use it over the campfire or for outdoor cooking as well.
It just an excellent function for a piece of a cooking utensil as you travel either in the camper or outside and you can hold onto these pieces forever.
See Price on Amazon
4. Immersion Blender
You should buy an Immersion blender. It is a must-have tool in the RV kitchen and worth investing because it saves space and can be easily adjustable in the RV.
You can blend frozen fruits or blend different ingredient, it will do multitasking as well.
An immersion blender can also help us blend baby food, smoothies, mayonnaise, which will make blending more comfortable and saves a lot of time.
See Price on Amazon (Best Seller)
5. Collapsible Strainer
You should buy a collapsing strainer if you are in an RV. The collapsing strainer is a Kitchen accessory that is commonly used in every kitchen to drain water or liquid from food or a substance.
It saves space because it is foldable, which we can carry everywhere we go, especially when we go camping. Its size is almost as a dinner plate, and it is made out of silicon plastic. It is best for people who want to save space and carry it along with them for camping.
See Price on Amazon
6. Collapsible Measuring Cups
Measuring cups take up a lot of room in the kitchen. We don't want anything that takes more space in the kitchen, so Collapsible Measuring Cups are built to save the precious space in the RV.
They can be folded, and it is beneficial as well in the RV kitchen. I will recommend buying this; these are great and must have on your RV Kitchen.
They are built with excellent material like silicon; you don't have to worry about cleaning it, it can be cleaned pretty quickly.
It is not sticky if you want to save space in your Rv kitchen, then this is the accessory you should have in your kitchen instead of measuring cups that take a lot of space in your kitchen.
See Price on Amazon
7. Knives with Cover
In your RV, you should have knives with covers; they are safe, when you are on the road, it can be bumpy sometimes, so you have to be careful while choosing your knives.
Usually, when people buy knives, they don't consider safety. Your RV is different from a house, and it can be unsafe in your RV more than it is in your home, So, always buy knives with covers to stay sharp as well as safe.
See Price on Amazon
8. Stackable cups
I found these cups very useful in the RV kitchen. Stackable cups are lightweight and are very easy to manage and keep in the RV kitchen. Consider buying these cups for your RV kitchen.
It doesn't add weight, which is a good and necessary thing for RV, and these stackable cups don't make noise, and it is good to have these cups.
See Price on Amazon
9. Rollable Drying Rack
This item sits over the sink dish drains it's a compact little rollable drain that just unfolds over the sink. You can use it when you are cooking or washing dishes as you go or just like your regular dish drain.
It is easy to manage, and it saves a lot of space, which makes it even more suitable for the RV kitchen.
This made it really easy to have one more place to put things and serve as a purpose, so it can dry as well.
See Price on Amazon
10. Steel Containers
This is a stainless storage container, and you can use these for leftovers. You can put them in the cabinet, and you don't have to worry about them breaking during the days you travel.
So it is beneficial to have these little stainless steel containers. You can have different varying sizes for a different amount, and they are a convenient item to have.
Not only do they not break, but also you can store things easily.
See Price on Amazon
11. Camping Utensils
Camping utensils are essential and make sure you find a utensil that doesn't break when they fall or don't make a lot of noise when you are on the road. There are many kinds of Utensils. It depends on you to find the best ones for you.
See Price on Amazon
12. Large Enamel Stock Pot
It is necessary to buy small and multi-tasking accessories for the kitchen but allow space for a huge Pot. You can make stews and chicken curry in this huge pot.
It will help you when you need to cook a lot of food for more people like when you have to cook for guests, or simply when you want some leftovers.
Even if it seems bid, it is easy to store it in the cabinet, and you can store some small accessories in the pot to save more space.
See Price on Amazon
13. Dishes
When you are buying dishes for your RV, make sure they don't shatter and break when they drop, that is why you should purchase melamine dishes because they are shattered resistant.
The other important thing is to pack them well. You don't want to listen to them rattle while traveling on the road.
See Price on Amazon
14. Also buy these
7 Tips for Setting up An RV Kitchen
These tips will help you improve your RV kitchen and get the most out of your Kitchen.
Quick List:
Be Realistic
Location – Where will you be camping
weight & Breakability – Choose Wisely
Pack well
Avoid "Critter Friendly" Packaging
Bring Multitasking kitchen Items
Be Creative for Storage
1. Be Realistic
It seems a little bit funny, but it is a handy tip, be realistic about yourself and how you cook, are you someone who cooks all the time? Are you a microwave queen? Are you a grill king? Think about these things before you start packing your RV kitchen.
If you are somebody who uses the microwave a lot, then you don't need to bring ten pots and pans. This is the first thing that I will suggest is, to be honest with yourself and be realistic about what kind of cooking you are going to do and pack according to that.
2. Location – Where will you be camping
The second tip is to consider where you are gonna be camping because this will make an impact on how you cook. Are you gonna be in a national park, or are you going to be in RV resorts with full hookups?
These things matter because the number one consideration that you got to think of is your water consumption. Are you going to have access to full hookup water, where you can wash 20 pots and pans if you want to?
Or are you going to be using very sparingly because you are trying to drag out the freshwater supply because you are in a National Park?
So those are the things to think about and will affect the way you cook something at home then you might cook 10 different things.
If you are camping and you are in dry camping conditions you might want to consider that. Something else to think about is the cleanup process because that takes a lot of water.
i. Use Pan Scrapper
One thing that I recommended using gadget Pan Scrapper, it gets down in the corner of pans. If you have something backed on, you can really scrape all the gunk, cheese, or whatever it will scrape it off. So when it comes to washing, then you will have a lot less to do.
You can use a lot less water because you don't have to put quite as much elbow grease when you are using water and soap. This is because you will already have done a lot of it with your pan scraper.
See Price on Amazon
3. Weight & Breakability – Choose Wisely
The third thing that I want to discuss before setting up the RV kitchen is the weight of the things you bring or their breakability. This is because when you are rolling down the road your RV is basically experiencing a level of earthquakes.
I know it sounds ridiculous, but it's true, so there is a lot of moving and shaking going on in here when you are rolling down the road.
Hence, you need to be careful about how you pack these things and you need to consider that weight and breakability.
So, for instance, you need to bring a lot of things that are a sort of thick plastic and microwaveable. Because they are break and chip resistant while moving and bouncing on the road.
Anything if you have you can get it and break or chip resistance I highly recommended that because it's going to make things easier and make it safer for you In RV kitchen while moving on the road.
Like I said remember the weight of the things that you pack is essential. You can pack things that are made by Rachael Ray. You know they are not super expensive, but they are lighter in weight.
They cook well because they distribute heat pretty evenly on the bottom of them, but you know they are nest together that's nice for travel and don't weight a lot.
4. Pack well
Tip number four is you need to pack well and think about it as you are setting things up. The number one thing I recommend people do is put a layer between things that you stack. This is especially if they are metal but if they are plastic, you don't really have to worry about it.
You must use the pot dividers, they fit down in there; they fit multiple sizes, and then you don't have to worry about the inside of your pots and pans getting scratched. It just provides that little buffer when you are rolling down the road.
For this I want to recommend is to get old fashion shelf liner now you can buy this in a roll it is super cheap. You can buy this in different colors and you can buy it in thicker pieces, buy what you want.
You must make a layer of these thicker pieces between your plates to avoid the plate from breaking while you are traveling on the road. Also, it will help reduce the noise while your traveling on the road in a motor home.
5. Avoid "Critter Friendly" Packaging
Tip number Five is to be aware of Critter Friendly packaging. So many of the things that you purchase at the grocery store or you pack in your RV will be critter friendly packaging. That means the plastic packaging, which is plastic storage bags that you have or paper bags.
So sugar, crackers, and things like that that are in plastic packaging. It's really easy for a mouse to chew through.
I suggest avoiding this type of packaging. The easiest thing to do is just to get some small plastic containers with lids.
You can check the price here on Amazon
The other thing that you can do is just use your old coffee cans. So you just clean out the old coffee cans and put your sugar in it and its tight lid. It will help keep the mice and critters out or at least slow them way down.
6. Bring Multitasking Kitchen Items
You have limited space in your RV kitchen, so you should bring the multitasking kitchen items. Anytime you can bring something with you that will perform more than one function.
Then you are doing a great job because it's gonna save you space, and it will be more efficient.
Multitasking items like measuring cups that are for the dry and liquid products. You can just flip it around for either way to measures tablespoons, teaspoons, and millimeters.
It also has the fluid ounces for liquid. So it is a great multitasking product that keeps you from having to pack different items for RV kitchen.
7. Be Creative for Storage
The last tip for RV kitchen is to be creative for your storage anytime that you can find something that is nesting items that's good because it is going to take up less space, and you can put a lot of things.
The other thing I recommended is finding unique places to store items. So drawers you may not access a lot for clothing or something like that stick some pots and pans in there.
One place that is underutilized for a lot of people is their actual oven, you can store pots and pans in there.
One thing that you need to remember is on the very bottom of the oven, most ovens have a line. That is a gas supply.
So I don't recommend storing anything down here because it could be dangerous when you are traveling on a bumpy road it might mess with your gas line, so don't do that. But you can put them on the upper sections of your oven where is no gas supply.
Top 7 Must Have RV Gadgets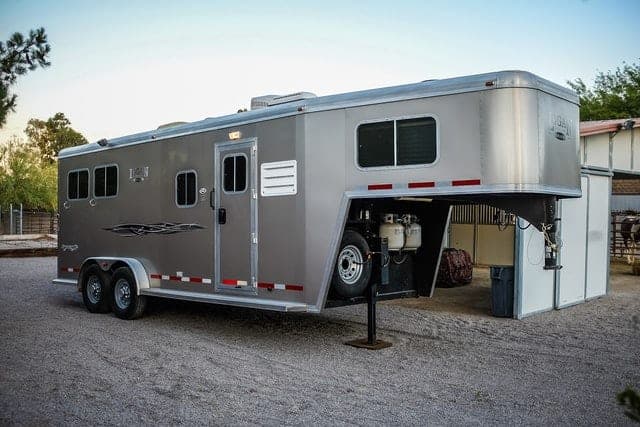 It is good to have gadgets that are safe and convenient and all these gadgets are safe and convenient.
Quick List:
Power Surge Protector
Water Pressure Regulator
Tire Pressure Monitoring System
Clear Sewer Hose Elbow
Weather Monitoring System
No Scratch Pan Liners
Cell Booster
1. Power Surge Protector
This gadget is expensive, but it will let you know about high and low voltage conditions that could ruin the electronics in your RV. You may think that you can skip on this one, but don't skip this gadget.
In many campsites, you can run into issues that could cause the problem in your RV and can ruin your electronics.
You don't want that, make sure you have one for your RV it is good to be prepared and safe for any incident.
Buy one of these and protect your RV from any unpleasant incident.
See Price on Amazon
2. Water Pressure Regulator
The next gadget you should have is a water pressure regulator. The valve brings down the pressure to a safe level before it reaches any fixtures in your RV. This little thing can save you from a world of pain.
These water pressure regulators are not expensive, and they are available at low prices, so you might as well pick one up for your RV.
See Price on Amazon
3. Tire Pressure Monitoring System
This bad boy will let you know if you have any tire pressure issues on the truck or the trailer. If you know your tires are low leaking or overheating beforehand, you can prevent an accident.
It is good to be aware of the situation of your tires and prevent any unpleasant situation before it happens. They are available at different prices, so consider buying one, it will be useful for you.
See Price on Amazon
4. Clear Sewer Hose Elbow
This accessory is super handy to have when cleaning out your grey and black water tanks. It will help you to know when your tank is empty.
It is not the most glamorous tool, but it is nice because you want to know when your water is running clear. Consider buying one they are not expensive and available in different styles and angles.
See Price on Amazon
5. Weather Monitoring System
The weather monitoring system will let you know the temperature inside the RV and outside of the RV. Its forecast feature will help you plan your daily activities.
It is better to see the weather before going somewhere because you don't know when the weather could go wrong.
So it is always good to be aware of the weather in the area where you are going. The best part is it also shows the humidity inside the RV, which is great to have knowledge of humidity level in the RV.
See Price on Amazon
6. No Scratch Pan Liners
Pan liners are lazy women's solution to organizing your RV cupboards. They are cheap and sturdy, and you can literally use it to line everything.
It will help prevent scratching on the accessories and will keep them beautiful and new for a long time.
See Price on Amazon
7. Cell Booster
Cell Booster can be useful in remote areas to boost signals, it can boost signals and will help you get 4G signals in remote areas.
You will not have to move from the remote campsite to get the signals to work. So consider buying it, they are expensive but helpful.
See Price on Amazon
---