Where Can I Park My RV For Free? 12 Free Overnight Parking
We heard many people who travel in RV's make a point that they rarely pay for an overnight stay in a campground, and usually, they don't pay for RV parking.
This makes many people wonder how they find free parking for an overnight stay, and they can't even think about going free.
We got you covered, and in this article, you will know how you can park your RV for free at some places near you.
Here Is Quick List for You: Places For Free Overnight Parking RV
Cracker Barrel
Cabela's
Rest Areas
Schools
Truck Stops
Repair Shops
Walmart
Churches
24-hr Gas Stations
City Streets
Shopping Malls
Casino
Don't get the wrong idea that it is all about saving money. It is true in some cases because of the increasing prices of campgrounds and other private parking areas.
Sometimes the reason is freedom while traveling in an RV everyone wants to feel freedom.
Things You Should Know Before Parking RV
Before you try for free parking, you should know that you will be parking at business lots where you can't just go and set up your camp at these places. You should show proper etiquettes to talk to these owners.
Buy From them.
Kindly Ask For Permission.
Don't Mention Word "Parking"
Don't just start dumping everything on the ground.
And most importantly, don't leave trash behind.
If you are not kind and show lousy behavior, it will hurt the chances to park for other RVers as well, and please do not let down your fellow RVers and be kind toward the management.
Cracker Barrel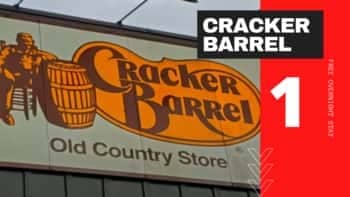 Cracker barrels old country stores are RV friendly, and when you see their billboards, you will notice a little RV symbol in the corner, which shows their friendliness toward RVers.
As I mentioned before, make sure you ask the management for permission to park your RV. And yes, don't forget to buy something before asking them, and maybe they will let you park there overnight.
Cracker-barrel parking lots can get crowded, and their parking lots are not as big as Walmart, where they have acres of space available.
They do have bus parking and RV Parking, but this is the kind of place where you should go late at night and leave in the early morning.
More 24 Hours Restaurants
These are the restaurants available 24 hours, you can ask for permission to stay overnight in their parking lots.
Denny's
McDonalds
Steak n Shake
IHOP
Waffle House
Cabela's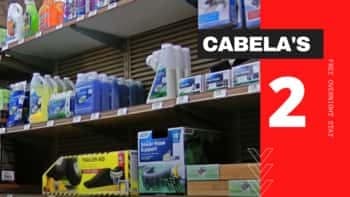 In the west, you can find a huge sporting goods store with a huge parking lot, and most of these stores are RV friendly.
They might also have a dump station and fresh water that you can use for free or a small fee, it can't get friendlier than that.
Don't forget to ask for permission while buying some supplies. You can call in advance to make sure parking is available, and that they are allowing parking to RVs.
Rest Areas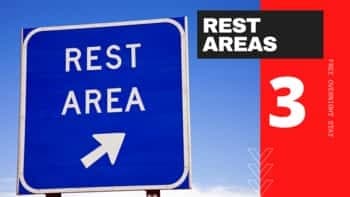 It is a safe place to stay for the night, but don't expect too much rest here, but if you are in an emergency situation, then these rest areas will be a safe choice.
When I say not much rest here, it means you will have to deal with the noise of 18-wheelers all night coming and going.
You may not get much rest here as you think because a lot of 18 wheelers come there. They stay for an hour or two, and then they go on their way. When they pass by your RV, they make noise, refrigerator trucks make the most noise so you may not be able to get much sleep.
This situation depends on the location if you are using interstate rest areas where they are gonna be busy, and you will find 18-wheeler trucks coming and going all night. Try using earplugs to help take care of the noise.
Schools (On Weekends)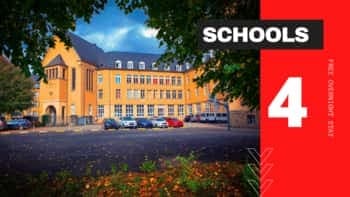 Schools will sometime provide the opportunity to stay overnight for free.
You will have to stay away from school when school is open, which means you can only use school parking on weekends. And you will have to leave the place before school opens.
Call school management at working hours, ask for their permission, let them know why you are visiting the city, and tell them you will leave the school parking before school.
Be kind, and If you are traveling with kids, don't forget to mention kids, it will increase your chances of getting permission.
Usually, you will get permission, and be gentle and show good behavior talking to them. You will get approval, and again don't forget to leave the school parking before school opens.
Truck Stops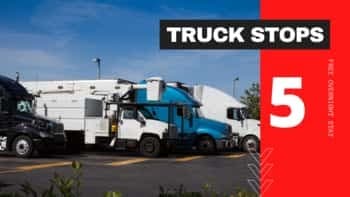 While traveling in America, you will find there are many truck stops all over the country.
Many companies provide these truck stops where truck drivers can repair their vehicles, eat food, bathroom, and bathing facility, but the bathing facility will not be free.
They usually are only for trucks, but many also provide parking to the RVs, some charge for the parking, but many provide free parking to RVs.
Make sure you call them in advance before reaching there, ask them if they are allowing parking for RVs and if the parking is free.
These truck stops will be a safe parking place, and also you will get many facilities that you can use for little money.
Repair Shops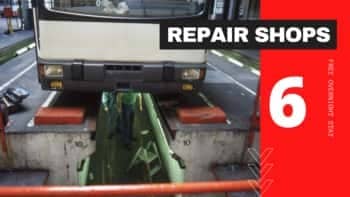 Another safe place for parking is a repair shop for trucks, cars, and RVs. They will be happy to have you as their customer. If you need anything to be repaired in your RV, maybe you can get a free overnight stay.
The time that they will need to get your RV fixed, you can use this time to travel around the city, and enjoy your free overnight stay.
Be generous toward them, and you may get another overnight stay even after your Rv is repaired. Being nice always works, you don't have to pretend to be nice just be a good human.
Walmart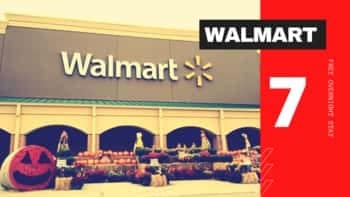 Walmarts are common among Rvers to stay overnight for free; not all Walmart will let you stay for free, some of them will charge you for staying overnight.
Ask for their permission in advance and make sure you contact the right person for approval. It will also be helpful to ask for permission in person.
Talk to the manager or person in charge of Walmart. He or she will be the only one that will let you stay overnight for free.
Make sure you are polite and kind towards them and don't forget to buy a pair of socks before talking to them, I mean make sure you purchase something before asking them for permission.
And don't mention camping while asking for permission anywhere. It will mislead the manager to get the wrong idea about the mess you are going to make in their parking area. Only mention parking to them and be kind.
Does Walmart Allow Overnight RV Parking?
You Can Buy Walmart Locator On Amazon: It is a good resource for figuring out which Walmart store allows overnight parking.
Yes but not all, in some cities or communities RVers are not allowed to stay overnight, but some of them allow Rvers to stay overnight for free, because RVer are their valuable customers, and they want their customers to stay overnight.
You have to ask the manager to confirm or anybody answering the phone will know the answer.
Churches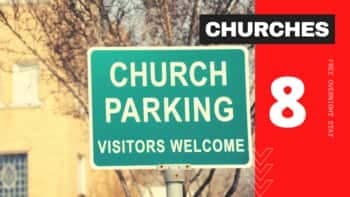 Churches also have their big parking place for cars, and you can also go there for a free overnight stay. But on Sundays, their parking is usually filled with many vehicles, and you may face some problems finding the right place for you.
If you want to go to church for service then ask for their permission to stay at night, this should be the night before service.
City Streets
In Cities you can use free Parking and stay overnight for free, you are not violating any code, and you don't have to ask for permission as well. There are many cities where you can park for free overnight.
This is the kind of place where you arrive at night, and pull out early in the morning, it will make you a good Visitor that will leave the area for other cars.
These streets are preferable because fewer people and less traffic and it is a totally free parking area. Sometimes there is paid Parking, so just make sure that you are staying overnight for free.
Shopping Malls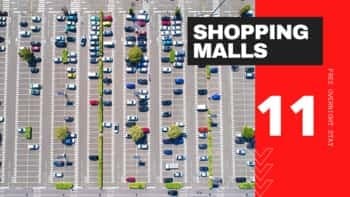 Many shopping malls across the country will let you stay overnight for free. They are friendly toward Rvers, If you are spending money and ask for permission to stay most of the time, you will get the permission.
Their parking area is secured because the security of shopping malls patrol at night makes you feel safe, and you can enjoy your overnight stay at this safe place for free.
Don't forget to buy something before asking for their permission, it will increase your chances to get approval.
Casinos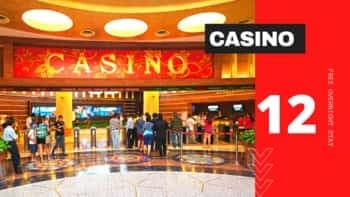 Casinos are another safe place to stay if you don't have a gambling addiction, stay away from casinos then. Like other places, you have to ask for permission, and most likely, they will let you park your RV overnight.
And again, don't mention the word camping while asking for permission, and be nice and ask the person responsible. Not all of the casinos allowed, but most of them allow RV Parking.
Finding Free Overnight Parking Near You (Cities)
When you are in a city, it might not be difficult to find a parking place to stay overnight for free. Many places allow RV's to stay overnight at their Parking. They are usually free and super safe.
Some of these places are 24-hour restaurants, and you can ask for their approval, and they will let you stay overnight.
When you leave in the morning, don't forget to buy something from the businesses that allow you to stay overnight. It will make them happy, and they will keep allowing RVers to stay.
Below are the restaurants that are available for an overnight stay, and they will be near to you when you are in the city.
Denny's
McDonald's
Steak n Shake
IHOP
Waffle House
Cracker Barrel
Cabela's
It is nice to ask for permission first.
Safety Is Important
You should be careful where you park overnight, don't think you are saving money by Parking at dangerous places and being smart. It can cost you more than you are saving, these places should not be taken lightly.
Being safe should be your first priority.
Avoid These Places For Parking
Back streets Parking
Lonely Country Roads
Behind Industrial Plants