The Beaver State is known for its popular and beautiful landscapes, mountains, forest, hills, beaches, and natural land filled with the colors of the farmland. All of these spectacular locations are available for access to everyone. RV lifestyle fits perfectly into the elements of the Oregon State. A person doesn't have to know everything about the state or the places in it to get fun out of the trip. It is the adventure that carries the overall value of the place.
Oregon is perfect for Long Term RV Parks; here, you can find many best places for long-term RV parks. When you step into the land of Oregon, you will slowly realize the activities that you can do to make your overall trip memorable. There's a certain challenge that RV owners face in RV parks with helping policies; Oregon offers all the fun-related activities that you can do by being inside of your Recreational Vehicle.
This article will dig deeper into Long term RV parking in the state of Oregon because this state has plenty of beautiful places and recreational vehicle parking spots to give you the best experience of the state of Oregon without any limitations.
What is a Long-Term RV Park?
Plenty of people might settle with the idea of going out for a week-long outing. But the experience is always limited as you will have a few days in your hand to enjoy all the places that the state has to offer. When you take a state such as Oregon into accounting, then you will need more than a few days to fully explore the state's magnificent beauties.
A long-term RV park refers to a long-term campground that allows you a more comfortable country to state without any restriction and limitation ruining your overall experience. The sheer number of choices that you will get when you pick the long-term RV Park is a lot compared to the traditional route of the journey. As you will have the option to stay in one location or move into another area.
Advantages of Long-Term RV Parks
That is not only it there are a lot of perks that you will get when you choose the route of Long term RV park-
Savings
Convenience space
More time in the trip
No limitation on the luggage
That is just to name a few, of the perks alone make the Long term RV park a better option than any other option. If you want to take your time and enjoy any place with a better perspective and more time on the trip, then you should consider long-term RV parking.
Why is Oregon Perfect for Long Term RV Parks?
Motorhome and RV enthusiasts are always on the lookout for great places that grab attention after a single glance. Oregon packs in a wild ride for the people who seek the natural side of the trip. Here in Oregon, you can expect to see places such as Silver Falls State Park, Oregon Zoo, Lan Su Chinese garden, John Day Fossil Beds National Monument, Mount Bachelor, and many more to make your trip worthwhile ride.
If you are looking for some of the best long-term RV parks in the state, you will find about all of them here in this article. All the spots in the list have unique features and perks for the whole family. If you are unfamiliar with the entire long-term RV Park then here is a video that will give you all the proper information about the Long Term RV parks.
This video focuses on the Oregon Coast at Pacific City the beautiful sea just hits the right spot for many of the RV owners. Below you are going to see all the famous long-term spots in Oregon and the things that you can expect to receive from these places.
Best Resorts for Long Term RV Park Oregon State
Here is the list of best places for a long-term RV park in the state of Oregon.
Oceanside Beachfront RV Resort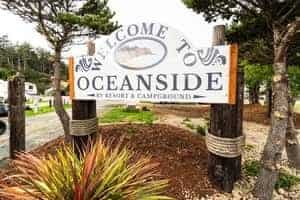 Located on the far west side of Oregon is Oceanside Beachfront RV Resort. If you are looking for a more scenic experience of the state, then this place has all of that going for it. For most people, the oceanside beachfront is the place for RV parking. One of the reasons why so many people consider this place above others is the accessibility to other popular locations in the state.
Here you will have access to Yoakam Point State Park, Nastendorff Beach Park, Cape Arago light, Sunset Bay State Park, and seashore town. All of them will be available to you close, so you won't have to drive for hours to cover the popular places in the state. Receptions have been very nice from the people who spend their time in the resort.
This region is perfect if you are seeking museums, wineries, restaurants, state parks, and many others. Amenities that you can expect to receive here are free wifi, beach access, convenience store, and more to satisfy your needs.
Boardman Marina & RV Park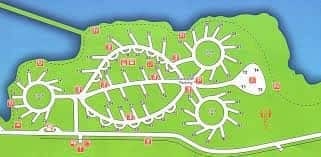 This place is also known as the best-kept secret on the Columbia River is Boardman Marina & RV Park. You can find this place on the northern edge of the state. Many RV enthusiasts pick this place it's just 23 miles away from the popular city of Hermiston. Even if you like the idea of renting an RV for your vacation, you can do that here and pick one up, right in the area. The bustling city of Hermiston has tons of options for you.
Guests can expect to enjoy amenities such as free wifi, BBQ grills, laundry facilities, restrooms, walking trails, and a park to enjoy the surroundings. If you want to escape the work-life to venture into a new area that doesn't carry any element of the life that you are used to, then you can check Boardman Marina & RV Park is the place that you should consider.
Grande Hot Springs RV resort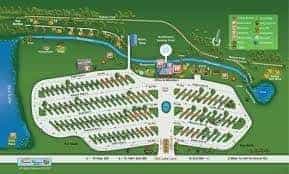 Set in the northeast of the state is Grande Hot Springs. It is eight miles away from downtown La Grande. While every aspect of the place is quite nice, the scenic beauty is breathtaking. It is just miles away from La Grande, which is infamous for its fun tourist attractions. A scenic bike trail, hot lake springs, and a state park are some of the highlight places that you must visit when you are in La Grande.
The most popular element of this place is the 186-degree hot lake located at the foot of Craig Mountain, which is said to raise the healthiness of your body and make you feel better once you get out of the pool. Nearby amenities and the hot pool to relax your body and mind make this place one of the best places to be for a long-term RV park session.
Sunny Valley RV Park and Campground

Located in the southwest of the state at Exit 71 on the I-5 corridor is Sunny Valley RV park and campground. What you can expect is being part of nature, which is exactly what you will get in Sunny Valley RV Park and Campground. The theme of the park is family-friendly with wholesome activities for all age groups.
The sparkling clean swimming pool in the months of brutal summer will do a fine job of cooling you're off. Other things you can expect are a site playground, games room, library, sporting facilities, and a welcome center. The place also carries tons of mouth-melting snacks, beverages, and other accessories that you will need on a day-to-day basis, all of this will be available to you when you step into this palace.
Crater Lake RV Park
Located in the southeast of the state is Crater Lake RV park, if you are looking for a more picturesque part of Oregon, then this place is the place to be. If so you will be closer to the tourist attraction places such as Cascade Gorge, Joseph Stewart State Recreational Area, Red Rock Canyon, Prospect State Scenic Viewpoint, and Mill Creek Falls. All of them offer excellent scenic views of the gorgeous State of Oregon.
The best thing about this place is the natural attraction of Oregon without any filter. You will get to see the best natural locations surrounding your place. Amenities such as swimming, fishing, forest trails, video library, hiking, boating, rafting, snowmobiling, and many more will make your journey one to remember. If you like to rent your RV to other families and make some money on the way, then you can do it without any trouble. You will be able to make some money for your next trip.
Sea & Sand RV Park
Just located three miles north of Depoe Bay is Sea & Sand, RV Park. When you are here, you will be just miles away from the popular Lincoln City. If you want to stay closer to the tourist destinations then Sea & Sand RV Park is the place to be. Some of the places that you will have access to are Washington Park, Oregon Zoo, Enchanted Forest theme park, Rose garden, and the City of Portland.
Recreational activities and popular destinations are highlights of this place. RV-friendly facilities are right on the beach and guests will have faster access to sand, surf, and sun. for a faraway destination in the land of Oregon, Sea & Sand RV park provides the best amenities to make your trip enjoyable.
Bend Sisters Garden RV resort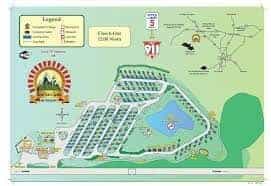 Bend/Sisters garden is a short drive away from the city of Bend. For many people, Bend is the best place to be in the state of Oregon. It is one of the most popular tourist attractions in all of Oregon. The best attraction about this place is the natural surroundings. When you are here you will find yourself in the midst of popular places in that area. The most highlighted places are Newberry National Volcanic Monument, Tumalo Falls, and the High Desert Museum.
The beautiful garden, rainbow trout-stocked fishing pond, heated pool, spa, BBQ, and miniature golf just name a few amenities that will keep you busy in this place for a long time. The reception to this place has been very positive it even got the rating of Oregon's #1 rated good Sam Park.
Wallowa Lake State Park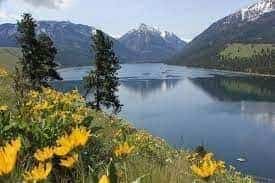 The beautiful Wallowa Lake by your side and being in the same region as the City of Joseph comes to Wallowa Lake State Park. The breathtaking part about this place is the Whitman National Forest home to Sacajawea Peak and Aneroid Mountain.
Some of the modern amenities are flush restrooms, hot showers, boat ramp, amphitheater, marina, and plenty of more activities for the family to enjoy. Some notable activities are fishing, hiking, wildlife viewing, picnicking, boating, swimming, and bicycle riding. The reviews have been very good as the google review of the place is filled with 5-star reviews.
Final Thought
In a state like Oregon, you will need time to take everything that the state has to offer. When you take every aspect of the state, you will realize it's bigger than you ever imagined. Oregon is filled with natural gorgeous places to historical museums that will show you a glance of the past. All of these places will be enjoyed the best if you have an RV with you. While there are plenty of other places that you can take to enjoy the state as it is meant to be experienced. But all of them pale in comparison with the long-term RV Park.
Long-term RV has better perks for a trip than any other method, as it would allow you to explore the entire state without any limitation on your time. When you take a normal tourist approach to visit a place, it ruins the trip experience for a lot of people, as this way of taking a trip will give you a very limited time in hand to get to all the places. Long-term RV Parks allow you to venture into all the places that you want to visit without any time limitation. Oregon has places that need to be seen and observed.