Whether you're looking to live on the road indefinitely or want a change in scenery from time to time, stealth camping is a unique way to get the full camping experience while also maximizing the short time you have in every location.
Stealth camping is the act of camping in unpopular, unknown, and out-of-the-way, private, or public locations and leaving the following morning before anyone notices. Stealth camping can take place in camper vans or conventional tents, depending on your preferences.
The thrill of stealth camping means you can move from place to place without answering anyone or drawing attention to yourself. Read on to know about stealth camping fundamentals first, including how to get started on stealth camping, how to optimize your experience, and any state camping regulations you should be aware of, so your journey can remain as exciting and comfortable as ever!
Camping off the Grid
Stealth camping is a technique that offers you the flexibility to move from place to place while ensuring you still receive a decent night's sleep, no matter where you end up. You can choose to camp in a camper van, a standard vehicle, or a tent. Stealth camping's primary goal is to conceal your whereabouts and activities from others and quickly relocate after getting some rest.
Stealth camping is not for everyone, so ensuring you prepare beforehand will make the experience much more enjoyable.
Once you've mastered the basics of stealth camping and can do so in a fun, safe, and legal way, you'll have the limitless freedom to choose where you set up base next, all while exploring new avenues along the way.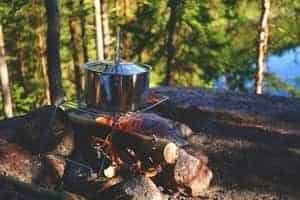 Stealth Camping vs. Traditional Camping
Unlike traditional camping, stealth camping requires that you move swiftly, without staying on location for too long. Watch this video for a glimpse into a realistic stealth camping experience:
It's an ideal activity for those seeking to live a camper lifestyle full-time or who want to get the most value out of a limited timeframe. Stealth camping is also efficient in that it allows campers to make use of existing resources.
Conventional camping methods usually involve avid planning in designated camping areas, reserves, or parks. These assigned camping areas allow campers to start fires and use modern facilities, making the overall camping experience feel all too organized, especially when surrounded by others with the same idea.
On the other hand, stealth camping allows you to make the most of an allocated location and limited time, all without having to follow the same camping path as traditional campers, since your movements will be quick and – hopefully – go unnoticed.
Different Tactics
The most significant differences between stealth camping and standard camping are the time you spend in one location and the discreteness required. Since you will move abruptly, it is vital that you blend in with your surroundings as much as possible, including your attire, the appearance of your vehicle or tent, and any tracks or traces you leave behind are adequately covered.
To remain an uncharted stealth camper, many avoid fires and carry bright lights to deter others' attention.
However, it's not just the public or other campers you'll want to ward off attention from, as wildlife can also become aware of your location and interfere with your camping experience. Stealth camping in secure areas and at a safe distance from wildlife will ensure your presence doesn't disturb theirs, and vice versa.
Furthermore, traditional camping is often a family activity or bonding exercise with friends, but stealth campers tend to travel solo to minimize public exposure.
Similar Resources
Stealth camping and traditional camping, although theoretically different, do require some of the same essential tools for wellbeing and health, such as a covered place to sleep, a sleeping bag, personal hygiene products, freshwater, and a power source.
A covered place to sleep can consist of a vehicle or tent that gives you privacy and comfort throughout the night and protects you from the outdoor elements, such as rainfall or bugs.
Several camping starter kits, such as this AOKIWO Survival Kit, are also available on the market and offer essential cooking and navigation tools, protection and safety, and first aid. Having a selection of camping tools and resources will make any camping experience, either stealth or traditional, more practical and convenient.
The Same Law
Regardless of how you choose to camp, there are some legal caveats regarding camping of any kind that are implemented by your state's appropriate governing body, detailing how and where campers are allowed to set up base.
Trespassing on private property or parking in a 'No Parking' location can all render unwanted attention, usually from the police. Outdoor sleeping, eating, fire-starting, or running a vehicle can also disturb others or result in a fine.
Therefore, stealth and traditional campers are encouraged to abide by any local rules to avoid tickets or fines.
Stealth Camping Tips for Beginners
Now that you're aware of the differences between stealth camping and traditional camping, you can plan your stealth camping adventure with a little more readiness, keeping in mind the details we've already shared with you about proper stealth camping tactics and basics.
Locations
Selecting an ideal location will deliver the most enjoyable stealth camping experience, especially if the site is less crowded and less discoverable.
When scouting out the best location for your night's rest, we recommend steering clear of private property, as this could result in trespassing and potential penalties. Instead, opt for a public area or an area that is approved for camping purposes.
Even if a location isn't illegal, the purpose of stealth camping is to go undetected and out of the public's view, so setting up camp on a busy street or outside of a popular business defeats the purpose of stealth camping and could land you in some legal trouble via attention from the authorities.
Legal Limitations
Both stealth and traditional camping fall into the same category in the eyes of the law; thus, brushing up on your state's legislation will ensure you don't accidentally camp out somewhere and wind up with a hefty fee to pay.
The National Park Service offers a comprehensive map detailing where pre-approved camping locations are throughout the country. Simultaneously, the stealth camping pros at Fresh Off the Grid have also provided a thorough list of other places, aside from national parks, where stealth camping is welcome and free.
Optimizing Your Experience
The best way to optimize your stealth camping experience is to make sure you do as much research as possible beforehand on both the practice of stealth camping and any state laws. Creating lists of items needed for your trip and researching anticipated locations will ensure you're setting out on a safe and secure journey.
You can also scope out nearby service centers, public restrooms, stores, and more to refuel or restock your camping supply.
If you're unsure whether your location is legal to camp in, don't hesitate to ask relevant authorities, including park officials or police, for some feedback and guidance.
Benefits of Stealth Camping Here Are Some

There are a lot of things that you can enjoy when you are stealth camping, it's a fun experience, but it may not be for everyone.
If you don't like solitude and are looking forward to meeting and visiting with new people, then this type of camping is not for you.

But if you enjoy and want to be alone, leave a smaller environmental footprint, and enjoy Mother Nature then it's perfect for you!
Stealth camping is enjoyed and also beneficial to a lot of people because it's:
Convenient
It's flexible
It can save money
It is more efficient

It will allow you to camp in new places and have some unique and sometimes exciting adventures
It can also be a way for you to find free spots on city streets which can put you near attractions.

It is fun to stealth camp occasionally because it can be kind of exciting. There's something fun about not being noticed and being snug and cozy in your RV or tent while all around the urban life is bustling.
Conclusion
When researched and performed correctly, stealth camping can render a riveting and exciting experience that you can only get from the rush of camping in different locations and quickly moving on.
Although it requires some planning in advance, stealth camping provides a unique alternative to traditional camping methods, giving thrill-seekers the much-needed excitement of camping in a new environment.
Since learning the details and logistics of stealth camping, you can begin planning your journey and embark safely and confidently, knowing you have all of the necessary tools and resources for a successful trip, no matter where you end up.