Arizona is very well-known as a wonderful place for camping and other activities. So, I'm still excited when I get to visit the backcountry so I can see recent developments or perhaps features of modern campsites (i.e fire rings, et cetera) scattered all over the area
Dispersed Camping In Arizona
You know what? The dispersed camping experience I had during my stay in Arizona is something I still find difficult to forget it was indeed an awesome trip.
Are There Any Restrictions?
In Arizona, you're free to explore or travel around the deserts, forests, mountains, sleep there, and even erect a camp if you so wish.
Yeah, it is that fun to be able to set up a tent for free wherever you want.
But Yes There Are Rules and Regulations
Given the fact that camping regulations in Arizona are quite cool as it only demands that you put out your fires completely and dwell in a particular site for a maximum of (14 days).
I guess you may be wondering "How in the world would the authorities know those that have overstayed?"
Well, the forest service does have a system for regulating such, but however, there are individuals who will still cut corners or tell lies when asked their actual date of arrival.
The Main Essence of the Rule:
Normally, the 14-day rule came in as a way to have the legal grounds so people who perhaps would want to claim squatter's rights, could be evicted.
On the other hand, the rule is also meant to give the forest service a valid reason or strong basis to get rid of anyone that has overstayed his/her welcome.
The Arizona Factor:
Regardless of what rule is in place, if you ensure that your site is clean, the area is in order, and you're not being a nuisance to yourself and others.
Honestly, nobody would really care how long you intend to camp there.
Furthermore, Arizona has become a ray of hope or beacon for most travelers. This is because of the ability for you to stop and literally make camp just about anywhere on state land.
Nonetheless, due to climate change. Arizona also becomes the vagabond, fugitive, or homeless capital of the "United States" during winter.
The Experience of Dispersed Camping In Arizona:
More often than not, a disorganized or scattered menagerie of campsites is what you'll see as you travel the dispersed roads of the Arizona backcountry.
These campsites spread out all through the forest areas. You could even stop and erect a tent if you'd like to camp there for the night.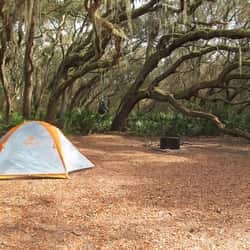 In the "Tonto Forest" for instance, you could just drive in, erect a tent at a developed site or location with a fire ring already in place. Here is a link to the site
Tonto Forest:
The Tonto National Forest, encompassing 2,873,200 acres, is the largest of the six national forests in Arizona and is the fifth largest national forest in the United States. This is according to Wikipedia
Thereafter, you may decide to stay for the whole week and leave freely at the appropriate time.
What Would It Cost?
Doing so would cost you little or nothing compared to camping on formal campgrounds that goes for $20(USD) per site per night you stay outside.
It will also cost you $2 dollars or so to have or take a six (6) minute shower.
That's ridiculous. I'm sure that you wouldn't want to do that.
Meanwhile, you could as well get a bed with a roof over your head, a free warm shower, and a free breakfast for the same $20(USD) at a place called Flagstaff.
However, I don't think you want that either, seeing that you could have a "little or no" cost tent erected.
Rules and Regulations Regarding Campfire Rings:
A) It is advisable for you to please utilize the existing sites and fire rings.
B) Also, note that wood permits are not necessarily needed for using dead firewood in the forest areas.
However, if the wood is being transported home for your personal use. Make sure to pick up a permit at the nearest District Office saddled with such responsibility.
C) Make sure you choose a site that is obviously not in a meadow or clearing.
Or that is next to a tree with shallow overhanging branches. And that it is at least a hundred (100) feet from any water source in order to protect fragile vegetation.
D) Always clean the area around before making a ring of rocks about two (2) feet in diameter.
E) Campfires are usually allowed when you are camping dispersedly in the Arizona forests. That is unless there are stringent fire restrictions in effect, as a result of "High Fire Danger"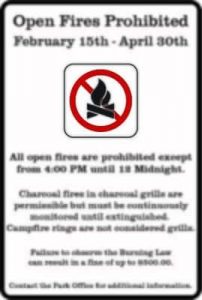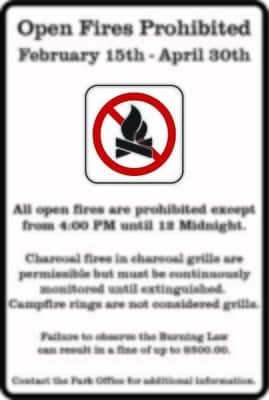 F) Also, have in mind that it is your sole responsibility to know whether or not fire restrictions are already in effect before you go camping with excitement.
You can as well learn about any fire restrictions by reaching out to the nearest Forest Service office.
G) Also note that – before you consider leaving your site, do ensure to put out the campfire completely.
Important Information You Should Take Into Consideration
It is obvious the Arizona forests do experience "wildfire" cases each year.
And a good number of these are caused by human activities, including campfires normally set up and left unquenched by some dispersed campers.
More specifically, if you didn't come along with your own firewood, simply collect and utilize only dead wood you could find on the ground.
In the same vein, make sure you don't cut branches off live trees.
On the other hand, if a well-known camping area doesn't have deadwood on the ground, please ensure to bring your own firewood.
Always remember that the animals, insects, and micro-organisms in the soil, obviously need rotting wood on the ground to survive.
Summary:
Friends, in the long run, we've been able to discuss some salient points regarding "Dispersed Camping in Arizona."
Which are also a part of the many reasons why a whole lot of people consider Arizona as a beacon for travelers and a nice haven for camping activities?
In conclusion, however, I encourage you to dig deep for more knowledge or information regarding dispersed camping in Arizona.
Meanwhile, you could do so and also take full advantage of that which has been communicated in this article.
Going forward, you'll start seeing how such information acquired and implemented gradually improve your camping experience or adventures.
So guys, go out there, do your due diligence (both online and offline), ask relevant questions where need be, and confirm the same from two or more sources.
With that in place, you're good to go camping in the Arizona forests.