Planning An RV Trip The RV Safety Equipment That's Needed
We have been boondocking and camping for several years now. Here are some things for you to think about if this is your first RV experience. Some of the items listed below could make the difference between a great experience and a disaster.
Planning an RV trip the RV safety equipment that's needed. So you think you're almost ready for your vacation? You've got your campsites booked, your food packed, and your family ready to go. But are you forgetting something? Your RV needs to be supplied with some safety equipment.
Hopefully, your trip will go smooth just like it is liked planned. But remember sometimes accidents can and do happen. Those are not the times to be caught off-guard. A little preparation helps you be ready for anything that life throws your way.
Camping in an RV can be an extremely rewarding experience for the whole family, but there are many potential hazards around a campsite. If an accident occurs, help might be far away, so it's important to take safety seriously.
A great place to start if you want to up your safety game is to invest in the right RV safety gear. Below, we've listed our suggestions for the equipment all RV owners should bring camping
Fire Extinguishers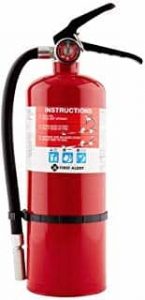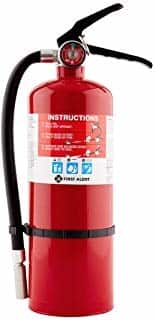 One of the most important pieces of safety equipment for any RV is a fire extinguisher. Open flames are common all around campsites, from the campfire to the grill to the propane stove to the propane water heater and furnace. There are no shortages of potential sources for fire. It's best to have multiple fire extinguishers and if possible, have a few different types of fire extinguisher to put out different types of fire.
In a matter of moments, a stray spark can ignite dangerous flames. A fire could get started from a campfire, electrical issues, or even cooking. You'll want to be armed and ready to prevent the fire from spreading and destroying your RV. Place one fire extinguisher in the kitchen, one near the door, and one in a storage compartment outside.
Smoke & Gas Alarms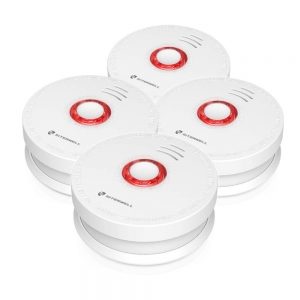 The sooner you can catch a fire or gas leak, the more likely you'll be to deal with it before it becomes a problem. It's helpful to have at least one smoke alarm in every room of your trailer or RV. You'll also want a propane alarm in an area where there are propane lines or appliances. Make sure you also always bring along a complete supply of batteries, too.
Surge Protectors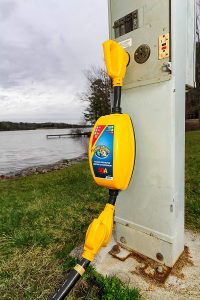 When camping, you'll often have to rely on electricity from unusual sources. You might have access to the electrical grid of the campground is big enough, but there's also a good chance you'll have to use a solar panel array, a generator, or some other source. A surge protector will protect your electronic devices from electrical surges that could cause serious damage. Click the link and you can check the price on Amazon.
Emergency Communications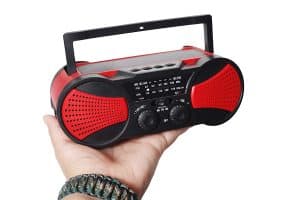 In the rare case that the power goes out during an emergency, you will need a way to stay updated. An emergency radio will help keep you connected to the outside world if a catastrophe occurs.
Cell phones, televisions, and other forms of technology may not function. An emergency radio lets you get important safety information. You don't want to have to plug the radio into the wall.
You can use a battery-powered radio instead. Make sure you have a fresh set of batteries to power it. If possible, pack multiple sets so you can keep it working for days if need be. There is also a solar, hand crank, battery operated emergency radio.
Head Lamp & Other Flashlights
You want to make sure that you have a couple of flashlights available.
Headlamps are also great because you still have both hands to work on the RV.  When you break down at night and you are trying to fix something, you'll want both hands free. Maybe you might even want a third or fourth hand to help you out. You will also want to make sure that you have plenty of batteries for them.
Road Safety Kit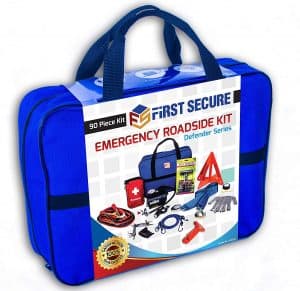 The trip to and from the campground can be one of the most common times for an accident to occur, so it's important to have a road safety kit. Pack yours with high visibility gear like cones, and, a vest, road flares, a few basic tools, tire foam, and some engine fluids for your tow vehicle.
Tire Pressure Monitoring System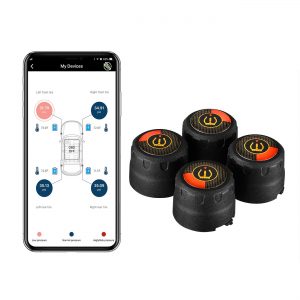 In towing, tire pressure is extremely important because the added weight of the trailer will put more stress on the tires. If the tires aren't correctly inflated, you could be facing a potential blowout.  If your current RV did not come with one.
A tire pressure monitoring system can be purchased as an aftermarket upgrade. This system measures the air pressure at each tire (some also measure tire temperature). It will then send it to a device in the cabin of the tow vehicle. This will then allow the driver to have a minute-by-minute data update.
First Aid Kit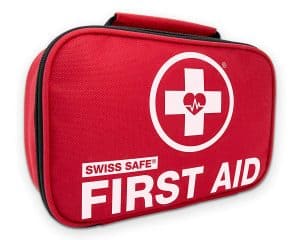 Medical services might be hours away when you're camping, so it's important to have a fully stocked first aid kit. Many first aid kits cover some of the basics, meaning they have a few bandages, ibuprofen, and maybe some antibiotic ointment and burn cream.
 For camping, you'll probably want to bring along quite a bit more than that. An epinephrine pen is crucial for fighting severe allergic reactions, and some antihistamine will help with less severe reactions. It's also a good idea to bring along several different types of over-the-counter medication, including anti-nausea and antidiuretics. Cold compresses are a good addition to any first aid kit, too.
GPS Emergency Beacon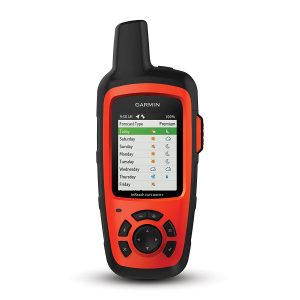 If you're camping off the grid or in a relatively remote area during an offseason, you'll want to make sure you have a way to signal emergency services. A GPS emergency beacon sends a distress signal to local emergency services and allows them to come to your exact location.
Water Pressure Regulation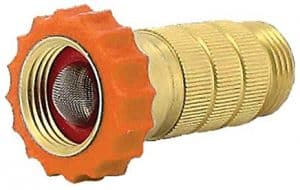 When you use a campsite's water, you run a risk. Their water pressure may be too intense for your plumbing system. If this happens, you could face expensive water damage to your pipes. A water pressure regulator adjusts the water so it comes in at an ideal pressure for your RV.
Trailer Brake Controller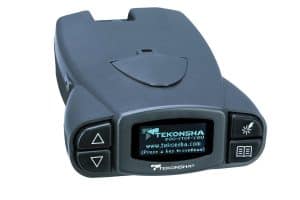 As you transport your fifth wheel, you use your tow vehicle's brakes to stop both your truck and your trailer. Rv's are large and thus put a large amount of strain on your tow vehicle's brakes. One great way to reduce this stress is with a trailer brake control. This upgrade lets you also use your RV wheel's brakes to stop. This reduces the wear on your truck's brakes while making your trailer easier to control.
Now that you have all of these items and know how to use them. Go out and enjoy Mother Nature and have a great camping experience.