Best RV for Full-Time Living:
As plain as the title reads, it is not that easy to decide on which RV (Recreational Vehicle) is the best for full time living.
Best RV for full-time living. There is none. The reason being that – different campers tend to have different tastes and unique experiences regarding what works well for them or not.
However, subsequently, in this post, I'll be sharing with you some useful information that could help in making a better choice.
The Reality:
It is quite obvious there are some individuals with years of experience in acquiring recreational vehicles. There are some that like traveling while driving the same, and also living in them.
Even so, a good number of people do utilize recreational vehicles for various reasons.
Meanwhile, some people like you and I would obviously want to acquire a recreational vehicle that you could both travel with and also live in – full time.
Whatever the reasons are, you still need to make careful decisions so you don't end up regretting it.
Yeah, it is obvious that you want value for your money.
And when you do get it, there's a greater tendency of it translating into a deep sense of relief.
Key Note:
More specifically, I'd like you to know that there's no such thing as "Perfect RV (Recreational Vehicle."
The reason is that every RV (Recreational Vehicle) is designed differently with unique strengths and weaknesses in place.
That could also be one reason they are bound to develop faults at some point, even when you needed them most.
But however, it is absolutely feasible to get a pretty good RV (Recreational Vehicle) that could serve you satisfactorily in the long term.
And that is what I'll be walking you through in a short while.
Decision-Based On Design:
In trying to make sure you get the maximum comfort living in an RV (Recreational Vehicle) full time.  It is paramount to note that RVs do come in different styles and framework.
Even so, it would be cool if you settle for a recreational vehicle with a floor plan that will guaranty comfortability without any form of congestion caused by inadequate space.
Helpful Tips: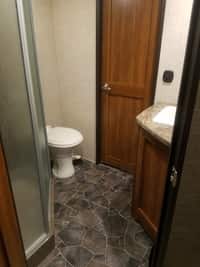 Look for furniture material that isn't stuffed up.

Watch for windows that are of a good size.

Look for bathrooms with adequate openings.

Look for island or walk around beds as an essential feature.

Make sure the kitchens have sufficient storage and cooking space.

Look for storage spaces that are properly designed.

Look out for things like blinds, not curtain materials with valance decorations for slide outs.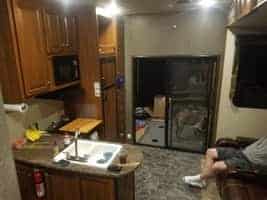 P.S – It is also important to know that a standard floor plan does give the inner aspect of an RV (Recreational Vehicle) a spacious look.
Decision-Based On Construction:
I'd like you to know that full-time RV's take into serious consideration – the way in which an RV (Recreational Vehicle) is being constructed.
The reason because they've got a whole lot of activities in the long run that could literally put the RV (Recreational Vehicle) under stress.
On the other hand, that may not matter so much to someone who is obviously just an average traveler.
Helpful Tips:
Look for strong furniture materials that will help ensure their durability.

Look for RV units that have a Flex-steel seating shrouded with leather, upholstery, or the likes of other heavy-duty fabric materials.

Watch for cabinets made of standard materials, whose latches can firmly support the opening and closing.

Look for RVs with a strong aluminum roof that provides coverage up to the front and rear section of the vehicle. This helps in to curb the tendency for leakage.

Look for windows with double panes to help curb dust and noise. They also help keep a clean, decent atmosphere within the RV (Recreational Vehicle).
P.S – Aluminum material with its body parts painted, look nice and also tend to be durable.
Furthermore, it is a lot easier to keep them clean when you are dealing with hardwood or vinyl flooring.
Decision-Based On Size:
Most RV owners will agree with me that – the dimension of a recreational vehicle does matter a lot.
The measure in length and width of an RV can literally make or break your plan to have a comfortable living experience.
Meanwhile, there are those who seem to have serious issues with size, especially when it comes to driving a sizable coach and also living in the same.
But however, a meager coach, on the other hand, isn't the best bet or suitable option for comfortable long term RV living.
Key Note:
Being a full-timer going forward, you'll have to constrain yourself within the RV more often than not.
However, you ought to know how to drive the RV so you can travel around and don't get stuck in one location.
And if you can't drive, there's honestly no point in seeking to acquire an RV.
Some Challenges:
There are situations where the outer part of an RV seem to be large, but inwardly, it is way too small and uncomfortable for full-time RV living.
Meanwhile, that isn't always the case ever since the emergence of slide-out rooms.
Mind you, the problem of being comfortable could also play out when the slideouts are closed.
Furthermore, numerous slides that are also large in size could hinder you from picking things you would need for lunch or perhaps sleeping.
That being said, I encourage you to settle for an RV with a slide out plus slides that are not too deep.
P.S – When all is said and done, a good argument regarding the dimensions for full time living. They should be amidst thirty-six (36) and thirty-eight (38) feet long.
Decision-Based On Types:
There is quite obviously a good number of people in the RV community do prefer fifth wheels, trailers, and motor homes for full-time RV living.
In the same vein, the likes of campers, van conversions – seem not to be the best bet for most but rather a few individuals.
However, you still have to carefully weigh your decisions on the balances before making a choice.
General Features:
Fifth wheels and travel trailers constitute pretty light materials and are being moved with the aid of a truck or car.

Fifth wheels and travel trailers are formed on pretty light chassis as a result of both not having engines, and as well generators.

It is somewhat tough to move a travel trailer due to its turning, back and forth movement. The reverse is the case with fifth wheels.

Seeing that durability is a far cry with fifth wheels and travel trailers, they can't last long as motor homes.

On the flip side, motor homes are somewhat tough to operate as a result of their height and weight.

Motor homes could last for a longer period of time due to its solid material build up.
Key Note:
It is of utmost importance to know that each of the above-mentioned RV classes does have some pretty good facilities.
Howbeit, the category of motor home known as "higher end" do come with homelike features such as an inverter, water system for filtration, and sizable generators.
You would also need to be sure the engines and generators are being started and serviced on regular basis to keep them in constant lubrication.
Doing such could help to prevent faults that could arise as a result of dormancy.
P.S – Before you decide on a particular RV (Recreational Vehicle) to buy. You should always consider your driving status and the longevity profile of the RV.
Decision-Based On Price Factor:
Getting a quality RV (Recreational Vehicle) at a pretty good rate is becoming an issue of concern as the prices continue to skyrocket.
Yeah, it isn't funny at all.
Meanwhile, I'd like you to know that the concept of "getting value for your money" is not always the case in the marketplace of today.
In other words, you could end up paying more for something worthless in value – if you're not being careful and considerate.
The same applies when you are purchasing a recreational vehicle.
Helpful Tips:
Make an effort to check up on RV dealers and their programs dedicated to showcasing recreational vehicles on sale.

If you're financially loaded, you could budget around $80,000(USD) to $3,000,000(USD) for a brand new recreational vehicle.

But if you aren't that financially well off, you could as well budget $50,000(USD) thereabout – for a quality fairly used recreational vehicle.

Good used RVs earlier than the year 1999 could sometimes be the best bet with virtually everything you would need to go forward.

The concept of "paying in cash" is also a pretty good strategy for securing a sound RV (Recreational Vehicle).

Only spend money on what represents the best value for your needs.
Summary:
In conclusion, however, regardless of what your plans are.
Always, make sure you do an in-depth "due diligence" on the status of the dealers involved. You should also check the details of the recreational vehicle you'd like to acquire.
That's very crucial.
It could save you a whole lot of expense and heartache in the long run. You might want to carry out extensive research via online search engine tools.