Many people love camping to spend time in tranquil natural settings, but others choose to take things even further. Primitive camping is quite popular amongst backpackers and those who prefer to rough it. But, what is primitive camping?
Primitive camping involves camping in areas that lack convenience or comfort amenities, such as running water, electric outlets, and even cellphone reception. Availabilities depend on location, as some renowned campgrounds have designated primitive campsites, while others are more remote.
While primitive camping is undoubtedly rewarding, it can be incredibly challenging. There are many aspects to consider, as primitive camping is fairly complex compared to classic modern camping approaches. Join us as we discuss primitive camping, what to expect, and why people love this pastime so much.
What is Primitive Camping?
Primitive camping, otherwise known as backcountry camping, refers to camping without many modern availabilities that most camping sites feature. This includes amenities like electricity outlets, structured showers, flushable toilets, grill areas, recreational areas, and much more. In some cases, primitive camping may even involve camping without any cellular reception.
Where Can You Go Primitive Camping?
In most cases, primitive camping can be done in places that are more remote and lack basic modern comforts. Such campsites are otherwise referred to as hike-in or tent-only sites. Many campsites are devoted to providing a primitive camping experience and focus on maintaining the natural aspects of the grounds instead.
But primitive camping is not solely exclusive to those camping off-the-grid. Many renowned campsites, nature parks, and other camping areas offer primitive camping sites in addition to standard campsite areas. This versatility allows campers of varying preferences to enjoy their grounds, but some campgrounds require backcountry permits for primitive camping.
Why Do People Love Primitive Camping?
In modern times, camping has become increasingly glamorized with everyday comforts and conveniences – gaining an additional camping style known as glamping. There are plenty of amenities to take along on the journey, including technological devices, appliances, and accommodation options like chalets and RVs.
Some enthusiasts believe that this sort of experience doesn't really feel like camping. These individuals love primitive camping, as it's much closer to the traditional camping style, where collecting fallen twigs and branches for fire and sleeping in a humble tent is the standard.
Atmosphere
Primitive camping affords a level of peace, tranquility, and relaxation that modern camping simply can't. The style forces campers to take a break from everyday conveniences and habits. The atmosphere is far more in-tune with natural surroundings, and there are fewer distractions throughout the entire experience.
Privacy
In addition to the lessened distractions afforded by being submerged in natural settings, primitive campers often find that the entire area is far more peaceful. Many renowned campsites can become fairly busy and crowded, depending on the season and the local area.
Nearby campers may be camping out in RVs, using generators, or have some extremely enthusiastic children. Of course, they are usually just enjoying their camping trip without the intention of actively disturbing anyone. But this can put a damper on your overall experience, especially when you can hear nearby campers' activities throughout your trip.
Being able to disconnect from technology, society, and all the hustle and bustle of everyday life to soak in the natural air can do wonders for mental and physical health. Primitive campers love the experience, as it takes them out of modern life, affording a truly unforgettable camping trip.
Is Primitive Camping Safe?
Yes, and no. Primitive camping may be quite an alluring option. But there are quite a few aspects to consider for safety, as many primitive camping areas are fairly far away from modern necessities – or assistance.
Modern camping can accommodate many mishaps, such as a forgotten toilet paper supply, insufficient food, or even an injury. It's fairly straightforward to drive to a nearby store and get supplies or contact on-site employees for help in the event of an injury. Primitive camping may not afford such possibilities.
Research is Key
Of course, primitive camping can be safe and rewarding, but it needs effective and thorough forethought and planning before going ahead. Make sure you research the areas properly, as it will affect your safety and ensure the environment stays well-maintained as well.
You will need to assess what your surroundings will and will not provide and any potential risks posed by the area as a whole. In some cases, campsites can be vague about amenities, and you may need to ask further questions to understand what you're preparing to encounter on your trip.
If you value neighbors in fair proximity or want to have the best of both worlds, choosing a camping area that offers both primitive campsites and modern campsites may be the way to go. You can try out primitive camping with many of the benefits while still having peace of mind knowing there is help nearby.
Travel Methods
In many cases, the surrounding area within primitive campsites is dispersed, rugged, and prone to fluctuating weather. This does affect the overall experience, but it also affects potential means of transport.
The best way to ensure safety while heading out for a primitive camping trip is to use a 4 x 4 vehicle. You won't be able to call for help if you get stuck in the middle of nowhere, and you'll likely be traversing on unpaved roads to get to your chosen site.
What Do You Need for Primitive Camping?
What you will need for primitive camping will greatly depend on the campsite's availabilities. But there are quite a few essentials to consider when preparing to rough it in the great outdoors. These essentials consider humanity's most basic needs – food, water, rest, safety, and hygiene.
Water Cleansing or Devices
In many cases, campsites may only state that they do or do not provide a water source. However, stating that there is a water source can mean just about anything – it could mean there is a faucet with running water, a faucet with drinkable water, or even a nearby creek or river.
In most cases, primitive campsites have access to natural water sources, not running water. All of these water sources will have varying usability and may need additional devices. So, make sure to ask about the water source in particular when researching potential primitive campsites.
You will probably need to bring along a water filtration device or water purification system, as it's best to avoid taking the chance on untreated water sources. These devices will ensure you're not consuming the excess dirt or particles in the water. You can also use tablets for convenience – although these do not get rid of dirt.
If you can haul more items to your site, bring along a freshwater supply. At the very least, you'll be able to use this water for yourself – such as drinking, cooking, and brushing teeth. You may still be able to use the natural water for other uses, provided that they're filtered well.
Hygiene and Ablution Facilities
Most primitive campsites lack flushable toilets and showers, so you'll probably need to settle for less comfortable options. Portable showers and sanitation trowels are quite popular for primitive campers, as it's relatively simple to haul and setup.
But, be mindful of methods and approaches, as primitive camping prioritizes leaving no trace behind. You will need to find an effective way to bury human waste properly or carry it out of the area to be disposed of appropriately.
The best method is to find a private spot around a couple of hundred yards from your campsite, dig a hole a few inches deep, do your business, and fill the hole back in. Bring along plenty of hand sanitizer, wipes, and a bag or container for toilet paper and supplies.
Rest Area
Camping lodging options can vary in price, depending on the size and various additional features. Of course, you will not need the most lavish amenities on the market for primitive camping, but this will be the only resting space you'll have, and you wouldn't want to deal with a stiff neck during this experience.
Tents
Concerning the tent, what matters most is its weight. When you're hauling all of your equipment, tools, gear, and resources to your chosen site, every last ounce matters. Camping tents should be around 2 pounds or less while affording comfort, quality, and shelter from the elements.
Sleeping Bags and Pads
Sleeping bags are essential, and it's best to make sure your sleeping bag is of good quality. It should keep you warm, dry, and cozy no matter how cold it gets. Sleeping pads can add a layer of comfort, especially if you're camping on rugged terrain.
But, make sure you opt for a lightweight variant that can compress well and be hauled easily. Many primitive campers choose to pack in a real pillow, too. However, you could easily roll up some of your clothing to form a pillow as well.
Primitive Camping Cooking
Primitive camping meal plans will require some creativity and compromise – you may not be able to have that grill session you usually have at standard campsites. Primitive campers should not leave any human evidence behind and should focus on preserving the state of the environment as much as possible. This means that the options for cooking are fairly limited.
On-The-Go Meals
Most primitive campers choose freeze-dried meals and dehydrated food brands which offer affordable and tasty meals. Dehydrated meals only require you to add water and eat, so it's super-fast to whip up without affecting the environment at all.
Cooking Over Fire
You could make a fire if the campsite allows it, although you will need to be selective concerning the firewood used. If the chosen campsite allows fires, you'll need to be prepared with fire permits in some cases, and a pit to contain the flames and firewood.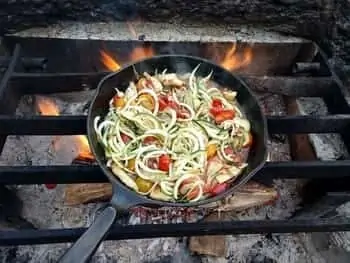 Bringing Meals Along
This may seem counterintuitive, but countless primitive campers love to stop at their favorite takeaways on the way to their campsite. It provides a slight touch of home while they're away and allows them to focus on their time spent in nature without fretting over food.
But there are a few things to consider here. All wrappers and packaging will need to be kept and disposed of properly once you return to the modern world, and the choice of food should be specific in certain areas. You may need to bring along a small sealable bag to contain all the waste for the rest of your trip.
It should be something that holds up well with movement, can last for a while before being eaten, and will keep you fuller for longer after eating it. Burritos are a favorite for quite a few primitive campers as a result, as they last a few hours, stay fresh, and are fairly durable.
Light Sources
Since there are usually no electric outlets at primitive campsites, you'll need to prepare for total darkness when night falls. Headlamps are one of the most versatile and effective tools while primitive camping, as you may need your hands for traversing the area. Many lighting options will last up to 40 hours on a low setting, meaning you'll have plenty of light to last a couple of nights.
Clothing and Gear
Always add an extra layer of clothing when primitive camping. Temperatures drop dramatically at night, and struggling to sleep due to the weather is nothing short of miserable. Sleeping bags will provide heat, but many primitive campers wear a few layers of clothing after sundown to stay warm, comfortable, and happy.
Primitive Camping Skills
While many essentials concern chosen gear, there are a few fundamental skills needed for safe primitive camping in addition to equipment. You'll need a first aid kit but should be knowledgeable in first aid response as well.
You will also need to be well-versed in the natural surroundings in the area. This may take some practice and research, but you'll need to be aware of wildlife, fauna, flora, and how to handle various situations within the setting. Bring along a field guide, and keep it handy throughout your stay.
Although primitive camping may seem extreme for many, it's a truly unique, challenging, rewarding, and irreplaceable experience. Primitive camping can be one of the best ways to spend time outdoors, provided that you choose a reputable and safe location and are well-prepared for what awaits you.