The Ultimate Camping Checklist
Nature lovers know how alluring the great outdoors can be. When an opportunity for camping arises, the last thing anyone wants is disorganized chaos. It can be incredibly stressful to find out you're missing something halfway through your camping trip and making sure you've covered all bases will have a massive impact on the overall experience.
Packing your camping bags doesn't need to be perplexing with the right approaches – all it takes is some planning and a forward-thinking mindset. Join us as we cover classic outdoor necessities with this ultimate camping checklist, so you can make sure you've got everything you need for the camping trip of your dreams.
Choice of Campsite
Before you start loading your bags, think about where you're going. Many renowned campsites feature various amenities for convenience, enjoyment, and lessened packing liabilities for campers. Such amenities include running water, basic ablution facilities, picnic tables, grill areas, electric outlets, and much more.
Without consideration, you may pack something that isn't necessary during your stay while leaving behind something that may have been useful. You'll need to find out exactly what sort of amenities are included at your chosen campsite, as it will have a drastic impact on which items you'll need to pack.
Ultimate Camping Checklist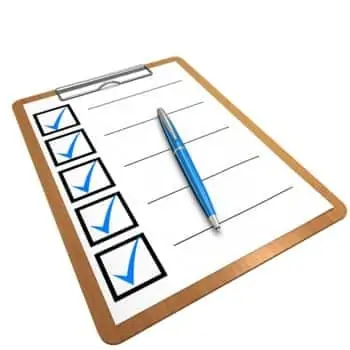 Regardless of where you choose to stay, there are numerous essential items that you'll need to have the camping trip you're hoping for.
Essential Camping Items
Tent and Stakes
The tent and stakes are by far the most essential for any camping trip, and you'll need to make sure you've selected a quality tent that's suitable for the weather and amount of people joining you. You can make it more comfortable by bringing along a ground tarp and a mat for the entrance.
Pillows, Sleeping Bags, and Sleeping Pads
You'll need comfortable pillows and sleeping equipment to rest up after a long day of traversing the outdoors. Sleeping pads provide an extra layer of comfort and support, or you may choose to pack a raised foldable camping bed or cot instead.
Lighting Options
Some campgrounds are well-lit at night, but others embrace the natural moonlight and glistening stars above instead. You'll need to make sure you've got plenty of lighting options, such as flashlights, headlamps, and hanging lights.
Camping Seating Options
Foldable camping chairs and stools are the most versatile seating option. You may be able to find a few logs to settle on, but it's best to have a sturdy chair to lounge on throughout the trip – just in case.
You'll need to make sure you have access to navigation tools while you're camping, especially if you're planning to explore the surrounding area. Some of the best options include GPS systems, compasses, and up-to-date maps. But, there are times where either of these options could act up, so it's best to have a combination.
Field Guides
Make sure you are well-prepared for the environment you're going into by having field guides handy. These guides will inform you of insects, plant life, and wildlife in the area, and will provide crucial information concerning your wellbeing throughout your trip.
Portable Power and Batteries
If your chosen camping site does not provide a steady flow of electricity, you'll need to be equipped with sufficient power for your stay. Solar panels are a great option for camping, as are power supplies and a generous battery supply. It's great to have these handy as backups, even if you have access to outlets at your campsite.
Insect Repellent and Insect Repellent Candles
Regardless of where you'll be camping, the odds are that you'll encounter plenty of bugs and insects. Mosquitos are by far the most common and the most annoying, but there are many other insects to protect yourself from as well. Use insect repellent and candles throughout your stay to make sure the bed bugs don't bite.
Optional Camping Items
These camping items are optional or will depend on the environment and amenities available where you're staying.
Water Filter/ Purification
Picnic or Camping Table
Sunshade, Tarps, and Screens
Clothesline and Clips or Pegs
Firewood or Charcoal and Firestarter
Umbrella
Health and Hygiene Camping Items
Staying outdoors doesn't mean you have to compromise on cleanliness, even if the campsite doesn't offer toilets and showers. You can pack many items to help you and your accompaniment stay clean and healthy throughout your stay.
Disinfectant, Wipes, and Hand Sanitizer
Sunscreen and Lip Balm
Toilet Paper and Paper Towels
Toiletry Kit
First-Aid Kit
Quick-Dry Towels
Tooth Brush and Toothpaste
Menstrual Products
Female Urination Device
Portable Camp Shower
Sanitation Trowel
Shower Shoes
Soap, Shampoo, and Deodorant
Small Broom and Dustpan
Prescription Medication
Camping Tools
Camping can bring plenty of joy and amusement, but it can also bring an array of mishaps and untimely incidents. Damage to your gear and equipment can dampen the mood – if you're not prepared for it. Bring along some tools and equipment for spur-of-the-moment repairs and backup plans.
Multi-Tool and Pocket Knife
Extra Cord and Stakes
Duct Tape
Mallet or Hammer
Saw or Axe
Tent-Pole Repair Sleeve
Sewing Kit
Camping Cooking Items
Your chosen campsite may feature grills and fire pits, but you'll need a few cooking essentials to make sure your camp meals still taste like home. Although, only pack what's needed here, and try to ration out how much you'll need throughout the trip.
Cooking Spray and Oil
Salt, Pepper, and Spices
Stove and Fuel
Matches and Lighters
Cooking and Eating Utensils
Corkscrew, Can Opener, and Bottle Opener
Cooler
Cooking Dishes and Holders
Plates, Bowls, Cups
Camping Sink or Wash Basin
Sponges, Scrubbers, and Dish Towels
Recycling Bags
Biodegradable Soap
Clothing and Gear
You'll need to assess the weather forecast in the campsite's area and plan your wardrobe accordingly. But, you'll still need many of these basic camping gear items to make sure you are comfortable and well-protected from the elements.
Moisture-Wicking Underwear
Boots or Hiking Shoes and Socks
Quick-Drying Shorts or Pants
Lightweight Jacket
Warm Sleepwear
Long-Sleeve Sweatshirts
Sunglasses and Hats
Rainwear, Insulated Clothing, and Gloves
Swimsuits and Water Sandals
The beauty of camping is that it takes simple necessities to have a great time, but there are still many essentials to consider. You may choose to add extras to this list, such as playing cards, marshmallow sticks, fishing gear, and much more. But, you're sure to have a great experience by assessing the chosen campsite's amenities and demands and setting off with these classic camping items.