Today I am going to talk about the Great Smoky Mountain National Park and ideas on where you should go camping in your RV or tent. Great Smoky Mountain National Park is enormous, there are really only a few main access points into the park.
Now the park itself is bounded by I-40 on the East and the US 129 on the West. Then on the north and the south is your two main access points. In the North, you have Gatlinburg Townsend and Pigeon Forge, on the south side you have Cherokee Bryson City.
Other than the small parks that we'll talk about in a little bit that's the main part of Great Smoky Mountain National Park. The interior areas on both the western and eastern sides of the park are accessible only by foot.
So the main parts of the park are for hikers only, otherwise, you're limited to these main access points. When I say limited it's not limited in a bad way. It's just for planning purposes, you need to be aware of that. Where to stay inside Smoky Mountain National Park so let's start out with Gatlinburg Tennessee.
Gatlinburg Tennessee
The big thing with Gatlinburg Tennessee is that it is the northern access point into the park. The thing with Gatlinburg is that there's not a lot of RV parks and campgrounds inside the town. The closest one is Twin Creek RV Resort and there is a free trolley that takes into downtown Gatlinburg.
Downtown Gatlinburg is cool to see, they've got a lot of little shops, and little restaurants all along a walkway. It's a very walking accessible town and it's a fun tourist destination. Twin Creek has a trolley stop and they have a pool for in-season swimming and playgrounds. They have big sites for RVs and small sites for tents and smaller trailers.  Overall this is a well-kept Park and really highly recommended.
There's another park which is Camp LeConte which is a newer RV Park. I point that out because it is new and it is nice. They've got everything kind of setup right, pull-throughs, cabins, and tent sites. This is a nice-looking campground, not too far outside of it's actually in Pigeon Forge. I mean in Gatlinburg right near the high school, it is just a little ways off of downtown Gatlinburg
Elkmont Campground
The closest National Park Campground to the entrance here is Elkmont Campground which is accessible for both RVs and tents.  Elkmont Campground has very large trees that do limit access to some RVs a lot of tents. Because of maneuvering in the park, they are long sites if you get into it any size RV will fit.
The other limiting factor for this park campground is the road leading into it is a winding narrow road. There are a lot of tight turns and such and this tends to limit people when they're driving on the road. Essentially about a ten-foot road base so it's a bit narrow and as you go down there.
One campground that  I'll mention is King's Holly. The reason I mention that one is it is right next door to the city park. If you have kids and you're on a budget this is a reasonable price park right next to the city park.
There's a whole bunch of nice ones in the area just wanted to point that one out if you have family and you on a budget. The next place to look at will be Townsend, Tennessee it has a true small-town feel. There's a nice KOA located here in Townsend they have really large sites. They are also right next to the Townsend entrance access point into the park. The great thing about Townsend is it gives you access to Laurel Creek Road which takes you over to Cades Cove.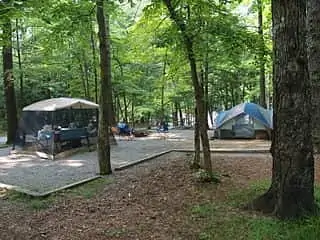 Cades Cove Campground
Cades Cove Campground is a very popular campground inside of the park and reservations are highly recommended. The reason it's popular is the Cades Cove Loop Road, which is a very scenic drive, it loops through the valley. There are a number of stops along the way with historic interpretation centers and so forth. It's a one-way loop road and that makes it notably special especially if you're a cyclist. On certain mornings the road is closed to vehicle traffic you can ride this road without vehicle traffic.
It is one way and you can do a loop even if it's open to vehicle traffic the speed limit is low. People aren't speeding along the road so you can easily ride it without too much worry. When you are done then you can stay right there at Cades Cove, which is very accessible for any size rig. You can drive down the road and back into the site. There is plenty of space so any size rig can fit into Cades Cove very easily. The sites are pretty close together but not too bad. Smoky Mountain National Park tends to pack them in there pretty tight in the different campgrounds.
Cherokee
Now let's go over to Cherokee. Cherokee is accessible via this US 441 that goes through the park. Clingman's Dome is at the very peak of it and then you drop down a long descent into Cherokee below.
Cherokee is on the Cherokee Indian Reservation and there are heritage museums and such if you wanna learn about the culture it's a great destination to go to.
There is a town where there's a casino in Cherokee it has nice restaurant's food and fuel and there are RV parks all around. With Cherokee, if you stay at the further out RV parks it is cheaper but it's a bit of a drive to get back. This is something you might want to keep in mind.
There are destination campgrounds up along Big Cove Road. The Cherokee Smoky Mountain KOA is a very popular spot, there's Jellystone, again another very popular spot. There is also Smokemont Campground.
Smokemont is a National Park Service campground accessible to tents and smaller RVs. The other National Park Campground accessible to Cherokee is Deep Creek, it's best for smaller RVs, truck campers, and tents.
Deep Creek
Deep Creek is very popular for folks that are more local they use it for tubing. You can take a tube and play with it out on the water. You can take your tube and hike up the trail hop in your tube and float back down.
They are very nice campgrounds green with lots of trees. It's a lower elevation so if it's warm you are camping in the trees so there's lots of shade. There are a couple of other camping options along the road here that also rent out inner tubes.
Now we've covered Pigeon Forge, Gatlinburg, Townsend, and Cherokee where else can you go camping in this area? A quieter region to go is up along the Cosby Tennessee area.
This is in the northeastern part of the park and it's a little bit more remote. Cosby is the actual city it's more of a community than a city. So there are houses and a few shops along here. Nothing big it's really kind of a remote area of the park.
There is a number of RV parks and campgrounds along 321. There is a private park right here at the entrance and then you have the Cosby Campground. Cosby Campground is seasonally open best suited to tents and small RVs.
Big Creek Campground
The 32 comes over to Big Creek Campground, again a tent campground truck campers at best very very small rigs. You notice this road right here you'll be following that it's a gravel road and it heads over Cataloochee. In Cataloochee, you need to make reservations before going there to camp they require reservations in advance.
They require them in advance because there's no cell or Internet service in that valley. Maggie Valley also requires reservations so the camp host knows who's coming and they can limit traffic from coming in uninvited.
The Cataloochee Campground is a nice little campground located in the trees next to the river. It is a scenic spot, it's a bit tight meaning you're right on top of your neighbors.
It's more comfortable for a small RV instead of tent camping, it's a pretty location in a remote area. The tip here is that whatever you're driving there, it is going to get dirty the gravel roads are very dusty.
Even if you idle along with them everything you own on the outside is going to get dusty. Your RV, trailer anything you have on the back of the car or pickup truck cover it up. So that way you don't arrive and have it all dirty.
Cataloochee is a very pretty campground and it's definitely worth the trip. This gives you a taste of the interior of the park because it's really located far from anywhere else.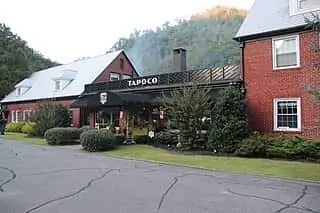 Tapoco, North Carolina
On the other side is Tapoco North Carolina. It is on the southern side of the park and there is less traffic and less crowded. Lots of people kind of hop over to hit Abrams Creek and there is Cades Cove again.
That is the Great Smoky Mountain National Park, not a lot to it from the surface. There are a lot of campgrounds around and it as well as inside it. The National Park Campgrounds tend to be pretty crowded and a little tight, they are best suited to smaller rigs.
The Cades Cove is pretty accessible to big rigs, as long as you can get back there. Your best bet if you're looking for a family trip is the Pigeon Forge area. If you're looking to just get away some of the areas around Cherokee and Cataloochee would be good.
Cosby is kind of the corners…you can almost think of it as the four corners. If you go to Townsend down by the dam area then Cosby and Maggie Valley would be your rural areas. The main areas will be Cherokee, Gatlinburg, Pigeon Forge.