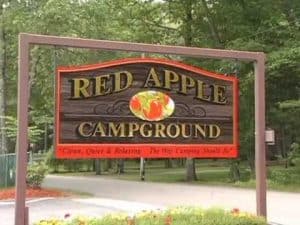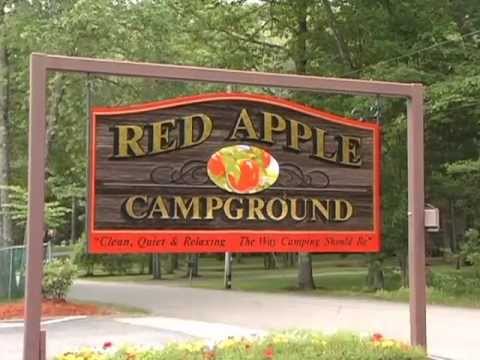 Red Apple Campground
60 miles north of Boston and 30 miles south of Portland, sits one of our nation's most treasured seaside towns. Kennebunkport, Maine, it was founded in the mid-1600s as a ship-building town. Nearly 350 years later, Kennebunkport has earned its reputation as one of the most quaint vacation destinations the world over. Kennebunkport, the summer home of President George H.W. Bush, boasts fine seafood restaurants, unique shops and the finest beaches around. You can take a whale watching cruise, deep sea fishing excursion, or lobstering cruise.Travelers looking to reconnect with nature, there is no finer stop on Maine's Atlantic Coast than Red Apple Campground – Kennebunkport finest.
Top Rated
This earns top ratings from all of the prestigious campground rating services. Red Apple Campground is your Maine campground destination. Red Apple Campground is the type of campground that people come to when they want to relax. Their motto is clean, quiet and relaxing. Customer service is number one at Red Apple Campground they treat you like family here, and sometimes even better. From the moment you pull-in to Red Apple Campground you'll be swept away by their gorgeous grounds and welcoming staff. With sites for tents, pop-ups, all sizes of RVs, RV rentals and cabin rentals. Whatever type of camping you love, they have got you covered at Red Apple Campground!
With a half-dozen cabins to choose from, including dog-friendly cabins, and a full-size RV to rent. You can choose to make your stay at Red Apple Campground just as comfortable as you like! Whatever your camping choice, Red Apple has the camping experience you've been dreaming of. "Each of the RV sites and rental sites have a picnic table and a fire ring for your relaxation. The rental units also have fully stocked kitchens with a bar-b-que grill so you can cook outside as well as cooking facilities inside." Tour the grounds of the Red Apple Campground and you'll find a mix of friendly faces, stunning scenery and top-notch amenities.
Outdoor Fun
There's plenty of outdoor fun for the grown-ups with horseshoes, bocce ball, basketball hoop, adult swings and shuffleboard courts. Kids stay happily entertained on the playground. And don't think they would forget about man's best friend! Here at Red Apple Campground well-mannered dogs are welcome visitors, and we've got a special dog park just for them! Head indoors to the air conditioned and heated Rec-Hall for some more fun.
Where you'll find a pool table, foosball, board games, puzzles, 4 large screen TVs with DVD player, thousands of books in the vast library and hundreds of DVDs. If you've left any staples or supplies behind take a quick stop in the general store for all of your camping needs.
Do you want to clean-up a bit, the modern laundry and clean, comfortable bath houses are standing by. If you're starting to get the idea that Red Apple Campground is one special place…you'd be right! Their goal is 100% happy campers – they like to wow their customers. One big wow is you can go in early in the morning and order, Maine lobster that was caught today. Tonight, they will deliver it directly to our site – hot, steaming and ready to eat and at a very reasonable price." From lush grounds to every camping option under the sun, to top quality amenities and customer service, Red Apple Campground is a special stop waiting for you and your family.
At Red Apple Campground they have got a simple motto – clean, quiet and relaxing – the way camping should be. Stop in at Red Apple and you'll see them living up to that motto each and every day..