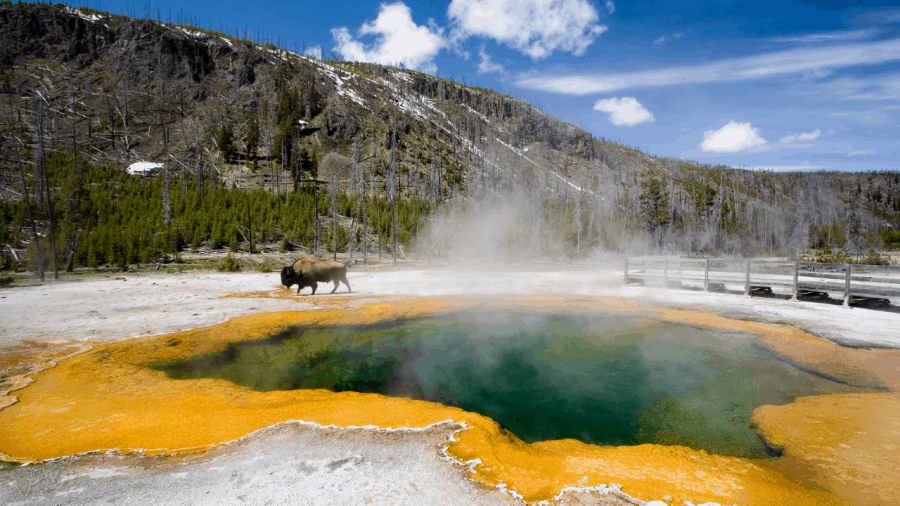 Yellowstone National Park.
Located in the Northwestern quadrant of Wyoming, the park is a destination for campers; why is that? Because there are no towns in Yellowstone National Park.
Meaning that for you, I, and everyone else, tent and RV camping are great options. The first thing I am going to do is give you an idea of just how great this place is to camp.
If you are planning a trip to Yellowstone National Park, you might want to check out this site. It has an interactive map and some great tips.
Within a 100 mile radius of Yellowstone, there are 162 campgrounds and RV parks. You have several National Park Service campgrounds located within the park.
Fishing Bridge
Fishing Bridge is a full hookup RV park. There is also Bridge Bay, which is both tent and RV. Grand Village is a tent and RV. Lewis Lake tent and RV and Madison are the same things.
Most of the fishing bridge ones are best suited to smaller RVs and tents, and truck campers. The nice thing about these campgrounds is that they are located along the loop road with about 30 miles between them.
They allow you to sleep and travel while taking a nice loop around the park. Just south of Yellowstone National Park in Grand Teton National Park, specifically in the Moray region.
This area is a must-visit if you are coming here for the first time and maybe the only time. It allows you to see some amazing sights looking west towards the Grand Tetons.
The Grand Tetons
The Grand Tetons are a majestic series of mountains, and there are National Park campgrounds in the Grand Teton National Park.
The most famous and probably one of the most scenic campgrounds in the entire area is Jenny Lake.
This one is accessible to tents and small RVs… we are talking class B, truck campers. This photo should give you an idea of just how and why this campground is a must stay.
Basically, most of the National Park campgrounds are pretty nice… the trick is the forest service campgrounds. These are unique options that allow you to discover the National Park without dealing with the heavy crowds.
Atherton Creek
This Atherton Creek campground is in a very scenic location and also overlooks a lake. It is accessible again to RVs and tent campers, and it's in the National Forest versus the National Park.
So the fees are a little bit lower, and there tend to be fewer park rangers roaming around in that area. So it just ends up being a little bit more of a rustic feel. You do have several forest service campgrounds surrounding the National Park.
So the question is, where do we go and where do we stay when going to Yellowstone National Park. You really have a few choices.
The two most popular locations are.
West Yellowstone and Cody
The two most popular for RVers and tent campers are West Yellowstone and Cody. Jackson is a popular area to visit because many folks stay in hotels, as they head to Jackson and Jackson Hole.
But the smart RVers will try to avoid that region; there is actually not a lot of choices in Jackson for RVing.
The main choice is The Virginian Lodge, which is a nice location. The Kudar Motel link to it offers locations for long-term stays, and the Fireside Resort, a newer park; is nice and located a little bit outside of Jackson.
Otherwise, you are kind of in a rural area; the KOA is south by about 20 miles, and then you have the National Forest and National Park campgrounds.
For that reason, Jackson is not really a big destination for tent and RVers… but if you go over to West Yellowstone, this map will give you an idea of why West Yellowstone is such a popular spot for RVers and tent campers, and it is simply a matter of choice.
West Yellowstone itself has 8 RV parks within the small little city here. There is Verizon coverage here.
Grocery Shopping
There is grocery shopping, all sorts of stuff, plus you are right next to Yellowstone's entrance. If you go a little bit outside of West Yellowstone, you have forest service campgrounds. The two KOA parks are to the west of town.
Island Park Idaho
You do have some private RV parks north of the lake and then at Island Park Idaho. I mention Island Park Idaho because this is another option for folks.
If you are on a budget and want to stay for a long time, you can stay out in Island Park.
It is significantly less expensive than West Yellowstone, and you are only 20 miles away. Google centers Island Park down here, but technically this entire region here is considered Island Park.
Red Rock RV Resort
So you have got Red Rock RV Resort, which is a nice place to stay. Then you have a state park at Henry's Lake State Park with full hookups.
There is another full hookup RV park right next to the road at Valley View RV Park.
All of those offer a budget-conscious way to visit the national park from the West Yellowstone side. You are 30 minutes from the loop road from West Yellowstone and make a nice little loop around the park road up to Gardiner.
Gardiner is in Montana, and this is accessible through Livingston. In fact, Livingston is the better-known location here.
There are some full hookup RV parks up in Livingston. It is a ways from here down into Yellowstone.
Gardiner
In Gardiner itself, there are some RV parks here. There are also some forest service campgrounds, and the two I want to talk about real quickly are this Bear Creek and Timber Campgrounds. The reason I mention both of those is that they are free to camp at.
They are accessible for tents and small truck campers, and small Class Bs. It is a 9-mile dirt road climb.
What makes those unique is they are pretty much deserted; there is not a lot of traffic up there, and they are advantageous because it is 9 miles from Gardiner, which is a mile from the park. So you are 10 miles away from the National Park, free camping at 9,000 feet elevation.
So when it is hot, it is nice and very cool up there. It's a great spot if you are looking to save some money and stay in a unique location near Yellowstone. Next up is Red Lodge as an access point into Yellowstone.
Red Lodge
Red Lodge is an interesting city that basically had a road built into Yellowstone National Park because they knew they were in the middle of nowhere, and it was the only way to get people in there.
The road that was built is called the Beartooth Highway. It is a must-drive, and you see these switchbacks here on the map that is the side of a cliff that the road is going up.
It is majestic. It is beautiful, and there are all of these forest service campgrounds right along the base here, including a dispersed campsite back here off the road 2005.
There is also a private RV park right here outside of Red Lodge, which is a nice place to get sites back up to the water.
Then you can drive this whole loop 212 all the way up through Cooke Silver Gate. There are forest service campgrounds all along here and then down into Yellowstone. The only thing about that location is this is a day drive right here. You don't want to be staying here and driving to Yellowstone, seeing everything, because it is really a long way from the geysers and everything else. It is just for a destination and tries to see that it is a great spot to be in a day or two.
Cody, Wyoming
Next up is the other popular area to discover Yellowstone thru and that is Cody, Wyoming. Cody Wyoming is the major access point for folks coming from the East Coast of the US.
It offers private RV parks in town, lots of museums, shopping, and gas. This one of the more reasonably priced locations outside of the park for all those options…
State Park Campgrounds
You also have the state park campgrounds at the reservoir, both accessible for all size RVs and tents. Some private campgrounds are heading up US 14 into the park, and then you have several forest service campgrounds all along the route leading up into Yellowstone.
As I mentioned, this is a constant climb all the way up to the top of the ridge, and this valley here, tends to channel weather, so you get a lot of scenic clouds over the peaks. It is a very, very pretty drive, and then you drop down to the lake into Yellowstone.
Dubois
The next lesser-known access point into Yellowstone is the small town of Dubois. This is less known because it is a bit harder to get to; it is not as quick of a route.
As you can see, to access here, you come through the 80 into Rawlins and then climb up; it just ends up being a long drive, but it is worth it.
There are two great RV parks right here in Dubois. The Longhorn Ranch and the KOA plus this town is like a mini-Jackson. It has an old west feel but does not have all the people, so it is a cool stay.
From here, you climb up this US 26 to the top of a ridge and then drop down into Moran. Which will give you access to both Grand Teton and Yellowstone National Park? The great thing about this drive is when you come over this ridge and drop down into the valley.
You are presented with a majestic view of the Tetons Mountains as you look towards the west. Our trip along here is this falls campground, a forest service campground, with no hookups.
It is accessible for any size RV, and there are hiking trails over to the waterfalls. The view from the campground looking up towards the mountains is a very, very pretty campground.
Overview
So there you have it. That is your access points into Yellowstone National Park. Again Jackson, West Yellowstone, Gardiner, Red Lodge, Cody, and Dubois.
I have given you a brief little overview of what to do in those different areas and our tips. They offer you access to the park and drive 500 miles from LA to get here.
You can stay at some of the campgrounds in the National Park and the Forest Service. There are also some great RV parks around. Enjoy your trip to Yellowstone National Park.

Plan your next trip here and go and have fun. Thank you and Goodbye.