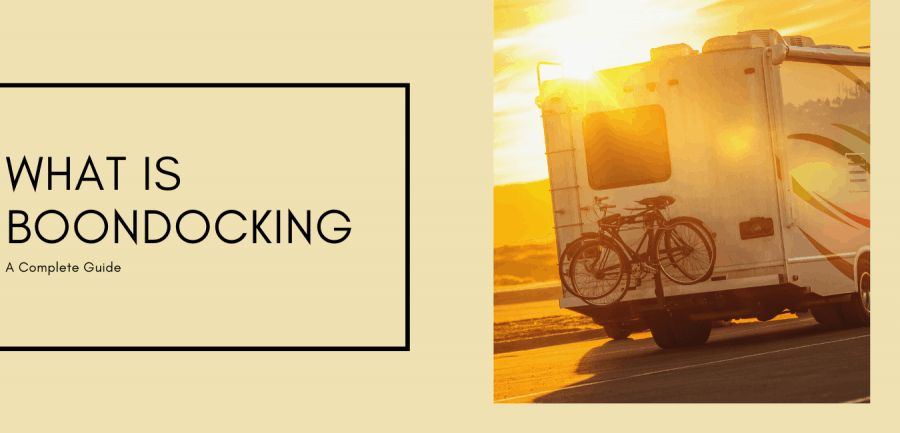 Campgrounds can be crowded and noisy. Also, it requires you to spend money for the time; one plans to stay there. So do you like traveling around the country, but you don't want to pay the fees associated with camping? Well, what are you waiting for? Let's hit the road, enjoy ourselves, and do some boondocking? People who spend a night in a parking lot or alongside a road are also said to be boondocking.
Boondocking
What is Boondocking? Boondocking is camping in a remote area away from most human activities. Boondocking is camping without hookups like water, electricity, or sewer; others call it "dry camping." Individuals who prefer to boondock want to spend time alone in a quiet, safe environment.
Why Do Boondocking?
People have various reasons why they prefer one over the other some of those reasons include:
To get away from cities which are always crowded and noisy and sometimes be alone enjoying nature.
Money, some individuals love traveling around and enjoying nature. But they don't want to spend money on camping sites, find themselves boondocking to save money.
Some individuals do both; free camping and paying camping. At some point, one may want a silent and lonely place to camp by themselves. Then, they want to spend time with others chatting and enjoying each other's company.
Circumstances such as having a car failure in the middle of nowhere. Or maybe having driven for long hours and need a rest before continuing the journey.
Where Do RVers Boondock?
Well, you can park almost anywhere, but you run the risk of being fined this might be for your own safety.
However, there are various places you can boondock as such; they include Legitimately recognized areas specifically for boondocking.

Illegal but well known, and they are used by many without having any security or any issues.
Unauthorized, but the authority grants one special permission.
Unofficial in which that you may park at your own risk. A restricted area where people park at their own risk of fines or worse.
The most recommended area is an officially recognized area and unofficial but well known and used by many people.
Examples of such areas include the Walmart parking lots, Kmarts, and other stops with large parking areas.
What To Observe During Boondocking Parking Lots:
It is crucial that you get authorization even if you are sure that it is okay to park there.
Ensure you arrive late and leave very early.
In case it is a private business to ensure it's only one night.
Only the park where the owner has directed you to keep off the way of customers.
Ensure you spend some money purchasing items from that business as a sign of gratitude.
What Is Needed To Boondock?
A Fresh Water Tank:
Water is vital, and one needs to carry it and use it sparingly. RVs come with some different tank sizes depending on the size of your RV.
The smaller the tanks are means the less time that you can spend boondocking. To help you lower your water usage, here are some things you may consider doing.
Avoid washing dishes with the use of disposable plates. Cook your food outside, so you don't have to clean the kitchen Rv space.
A Generator And Solar:
Remember, most of the areas are remote and have no electricity to keep yourself out of the dark. With these two items, you can charge your batteries or even run your microwave.
Solar is now available in many different sizes to suit your needs, and they are also portable. You have to hope that the sun shines, enjoy nature, and let the sun do the work for you.
Caution; when purchasing a generator, make sure that it is quiet; some are very noisy. If you are boondocking near others, it won't be delightful. Remember, the generator requires fuel, so remember to carry some extra fuel for it.
Also, the size of the generator you need will depend on your usage. If you use your generator for air conditioning, you need the larger one, which is noisy.
The generator will also charge your battery bank, ensuring you do not run out of power.
Switch Your Lights
If your RV does not have LED light bulbs, you should switch them out to LEDs. By changing to this style of bulb it will ensure lower power usage.
Thus, allowing you to keep your power on longer without having to worry about anything. Also, you may consider buying solar chargers for your computer or cell phone.
So you can stay connected without having to use the battery energy for lighting and other usages.
Getting A Good Location
Now that you are packed and ready to set off for your adventure, where are you going? Now let's look at a few available options for you.
The National Forest Service offers a lot of boondocking and camping opportunities. You should contact them and let them know the length of your stay and the number involved for security purposes.
Before the actual day, you should survey the area to ensure it fits your needs.
Most of the National Forest Service will allow you to stay for up to fourteen days. You need to carry your garbage with you and leave no trace of your stay. They may require that you pay a fee at some places, so be sure to inquire in advance.
There are also several websites that will show you the free campsites, which can help you locate a boondocking spot.
You may also consider reading blogs of people who boondock to get an idea of where they go and their experience.

Most rest areas only allow parking for about twelve hours. So you want to be sure of the rules of the state or city you are visiting. Some will even allow you to pull your car alongside the road, while others do not.
Be sure to carry your bedding, clothes, and enough food and water for a few days; these are essential. With all of these things, you can at least last for a few days or even a couple of weeks.
What to consider while selecting a boondocking area:
Security; ensure that the area you choose for your vacation is secure enough from robbers or wild animals. If you are near a big city where the crime rate is high, try not to park there for your own protection.
Permission:
Make sure before settling in a specific location, make sure that you have permission to park there. Obeying the law will give you peace of mind and make sure you have a great time. In case you consider parking on private property, be sure to ask for permission from the owner or the manager.
Is Boondocking Illegal?
Free camping is not illegal as long as you observe certain rules. One should make sure to camp only in the areas that are allowed by the law. Also, get permission from the property owner. Avoid littering around or leaving traces of your presence in a particular area.
Important Features to Consider While Shopping For An RV To Use For Boondocking
Water Capacity:
Water is a necessity, and one cannot do without it. It is important to consider when purchasing an RV that it has enough freshwater tank holding capacity. When you deplete your drinking water, it will limit your free camping time. Hence the more extensive the tank, the longer you stay camping.
You may also be forced to look for a water source like a river, a freshwater lake. Also, it would help if you considered carrying with you extra bottled water for drinking. Thus, ensuring that the tank water is for uses other than for drinking. Having drinking water separate will reduce water wastage and meet your needs until the last day of boondocking. Thus, the chosen RV should be large enough to host your bottled water. If the tank is large and you have bottled water the longer, you can stay in the boonies.
Black Water Tank:
The black water tank collects the sewage from the toilet. If it gets full, you will have to leave and find a dumping station to get rid of it. Thus, the RV should be equipped with a large black tank to hold the waste for all the days you plan to stay camping. If it gets full, avoid disposing it on public land as it is illegal. However, you will probably run out of freshwater long before the black tank gets full in most cases.
Gray Water Tank:
The gray tank is for holding water from the shower or has been used for dishwashing. Some areas will allow you to dump the gray water tank while others do not allow it if you camp where it is illegal to dump the gray water tank. When it gets full, you have no reason to continue staying there, so you might as well move. You may be forced to look for a dumping site. However, if it is legal to dispose of the gray tank, you may have more days to camp. Then you can dispose of your waste as per the rules of that area.
Refrigerator:
The size of your fridge can also determine the number of days that you spend in the boonies. The larger the fridge, the longer you are likely to spend in the boonies. Reducing the need to visit the grocery, which in most cases is better for you. Thus it is important to consider the size of the fridge when you are purchasing the RV. In fact, the freezer cannot hold a lot of food, so you might want to consider a cooler. You are likely to spend a few days camping, and one cannot stay long without eating.
Clothes Storage/ Clean Clothes:
Most of the time, people always forget to consider where they will keep their dirty clothes. Considering that each day you will need to change into clean clothes after your navy shower. It is also important to have enough space to keep all of your dirty clothes.
Also, you would not want to run out of clean ones either. When purchasing an RV, make sure it has enough space to hold all your dirty and clean clothes. Otherwise, your camping trip may come to an end abruptly.
You may have to move and look for a place where you can fetch water for washing your clothes.
Battery Bank:
It is critical to be sure that you have enough battery power for your RV. Otherwise, if you don't have a generator, you may be forced to get out of the boonies and look for a charger.
When purchasing your RV, it is essential to consider the size of the power bank that comes with it. The larger the size of your power bank, the fewer times you need to recharge your batteries.
Also, it will ensure that your lighting stays on all day and night.
Propane:
Long Term RV Parks Washington State Amidst the challenge of finding a suitable RV (Recreational Vehicle) park with friendly terms and policies. It is no doubt that Washington State is embellished with a couple of attractive features like beauty characterized by nature.
How to Ensure A Successful Boondocking:
Pre-wash your fruits and vegetables just before you leave for your adventure. By ensuring that whatever you carry is clean and washed, the better is for you.
This increases the chances of staying as it reduces water usage, which is a critical element.
By using disposable plates it reduces the need to wash them and it saves water. Make sure you keep a reasonable distance while parking your RV from others to avoid invading their privacy.
You may also consider preparing your meals before you leave to minimize the amount of your energy usage.
Suppose you love nature and like to travel around and spend as little money as is possible. Then here is your opportunity to try dry camping.
Where we enjoy ourselves so we can save some cash for other things. If you love adventure, what are you waiting for? Let's get with boondocking?