These are the two spots most Golden Gate Bridge visitors like to go the most:
South (San Francisco Side) Vista Point: Parking spaces are almost always full. The spaces are metered and if you let the meter expire, you'll pay a fine that could cost as much as a meal in a very nice restaurant. You'll find a gift shop, restrooms, cafe, and exhibits showing the cross-section of a cable.
If you find this parking lot full or if you want to spend more time than the meters will allow, try these options:
Drive away from the metered lot and turn left out onto Lincoln. there is a gravel lot a short distance away on your left. If you are approaching from the Presidio on Lincoln, the lot is just across from the two-story houses that were once the Presidio officers quarters.
On weekends and holidays, you'll find more paid parking in a nearby satellite lot on the southwest side of the bridge. Walk towards the bridge and through the underpass to get to the vista point.
The North (Marin Side) Vista Point: there is free parking for four hours and there are restrooms. You can only get there from northbound US 101. If you drive across the bridge and plan to go back into San Francisco afterwards, you'll pay a toll. The toll booths are electronic, so it isn't as easy as pulling out some cash.
The Golden Gate Bridge Toll Guide, shows you how to pay and is written with out-of-town visitors in mind.
Scenes from the Golden Gate Bridge
Enjoy some of our best shots in this Golden Gate Bridge Photo Tour and get a look at all the places you find a good view of the Golden Gate Bridge.
Experience the Golden Gate Bridge.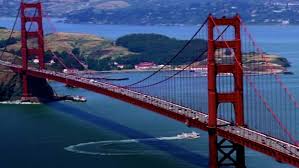 Walk on the Golden Gate Bridge if you can. It is hard to appreciate the size and height unless you've walked on it, at least a little way. At mid-span, you stand 220 feet above the water's surface and passing ships below look like small toys. From one vista point to another is 1.7 miles, a fun trip if you're up to it. But even a short walk will be very interesting.
People are only allowed on the east (city side) sidewalk, during daylight hours. Dogs are allowed when they are on a leash at all times, but skateboards and rollerblades, skates are not.
Many San Francisco tour operators include the bridge in their tour itineraries, but most allow only a few minutes to get out at the south vista point. The City Guides offers regular, free walking tours. Walk with them to learn who named it, how the structure cheated the law of concrete and steel, and what members of the Halfway to Hell club did to join it.
Even if you don't take that guided tour, you may want to learn more about the Golden Gate Bridge's history and find out some of the most fascinating facts about it.
Review
We rate the Golden Gate Bridge 5 stars out of 5. It's an iconic San Francisco sight and one of the world's most beautiful spans.
To make the most out of it, go for a walk on it so you can fully appreciate the magnitude of the engineering achievement.
Details
The Golden Gate Bridge is open to cars and bikes 24 hours a day and to people during daylight hours. There is a toll to drive in the southbound direction only.
Allow half an hour to visit one of the vista points, an hour or more if you take a walk on it
The bridge is especially beautiful on a sunny day with no wind. In the morning, the east side will be nicely lit. Fog can make it nearly disappear.
Getting to the Golden Gate Bridge
To get to the Golden Gate Bridge by vehicle: Follow the signs from anywhere in the city, taking Lombard Street (US Hwy 101) west.
To get to the south vista point, take the marked exit "Last SF Exit," just before you get to the toll booths. You can avoid heavy traffic by taking Lincoln Avenue through the Presidio.
Golden Gate Bridge by Trolley: City Sightseeing "Hop On Hop Off" double-decker buses stop here as well as other sights. Other similar services do not stop at as many places or offer the flexibility.
Golden Gate Bridge by Bus: San Francisco Muni's #28 and 29 buses go to the south side. Consult the Muni System map to plan your trip.
Golden Gate Bridge by Bicycle: Bicycles can use the Golden Gate Bridge 24 hours a day, but which sidewalk they're allowed on varies, with the west (ocean) side being most common. You can find several bicycle rental companies around Fisherman's Wharf, and most will give you a map and instructions on how to bike across the bridge to Sausalito and return by ferry.
"Golden Gate" is the real strait that the bridge spans. It's first name was "Chrysopylae," meaning "golden gate," by Captain John C. Fremont in 1846.
Views of the Golden Gate Bridge
If you'd like a few photos to go with your facts, take a look at some of our best shots.
Golden Gate Bridge Facts: How Big?
The Golden Gate Bridge was the longest span in the world from its completion in 1937 until the Verrazano Narrows Bridge was built in New York in 1964.Today, it is still the ninth-longest suspension span in the world.
A few Golden Gate Bridge facts to illustrate its size:
Total length: Including approaches, 1.7 miles (8,981 feet or 2,737 m)
Middle span: 4,200 feet (1,966 m).
Width: 90 feet (27 m)
Clearance above the high water (average): 220 feet (67 m)
Total weight when built: 894,500 tons (811,500,000 kg)
Total weight today: 887,000 tons (804,700,000 kg). Weight reduced because of new decking material
Towers:
746 feet (227 m) above the water
500 feet (152 m) above the roadway
Each leg is 33 x 54 feet (10 x 16 m)
Towers weigh 44,000 tons each (40,200,000 kg).
There are about 600,000 rivets in EACH tower.
Golden Gate Bridge Facts: Construction Details
One of the most interesting Golden Gate Bridge facts is that only eleven workers died during construction, a new safety record for the time. In the 1930s, bridge builders expected 1 fatality per $1 million in construction costs, and builders expected 35 people to die while building the Golden Gate Bridge.
One of the bridge's safety innovations was a net suspended under the floor. The lives of 19 men were saved during construction, they are often called members of the "Halfway to Hell Club."
Steel Facts:
Made in New Jersey, Maryland, and Pennsylvania and shipped through the Panama Canal
Total weight of steel: 83,000 tons (75,293,000 kg)
Cable Facts:
Two main cables pass over the tops of the main towers and are secured in concrete anchorages at each end. Each cable is made of 27,572 strands of wire. There are 80,000 miles (129,000 km) of wire in the two main cables, and it took more than six months to spin them
Cable diameter (including wrapping): 36 3/8 inches (0.92 m)
Cable length: 7,260 feet (2,332 m)
Lights:
128 lights are installed on the bridge roadway. They are 250-watt high-pressure sodium lamps installed in 1972
The 24 tower sidewalk lights are 35-watt low-pressure sodium lamps
12 light illuminate each tower, 400 watts each, and an airway beacon tops each tower
Golden Gate Bridge Facts: Traffic
Average crossings: About 41 million per year, counting both north- and southbound crossings, compared to 33 million crossing the first year it was open
Fewest crossings: January 1982, when a storm closed US Hwy 101 north of the bridge. On January 6, only 3,921 southbound vehicles passed the toll gates
Most crossings: October 27, 1989, a few days after the Loma Prieta earthquake, when the Bay Bridge was closed. 162,414 vehicles (counting those going both directions) crossed the bridge that day
Total crossings: Through October 30, 2002, the Golden Gate Bridge Highway District reported 1,754,094,967 vehicles had crossed the bridge
Closures: The bridge has been closed three times for weather, for gusting winds more than 70 mph. It closed briefly for visits by President Franklin D. Roosevelt and French President Charles DeGaulle. It was also closed on its fiftieth birthday
Golden Gate Bridge Facts: Important Dates
May 25, 1923: The California state legislature passes a law creating the Golden Gate Bridge and Highway District
August 27, 1930: Joseph B. Strauss submits final plans
November 4, 1930: $35 million bond issue approved by the six counties in the District, by a vote of 145,667 to 46.954
January 5, 1933: Construction begins
May 27, 1937: Bridge opens to pedestrians
May 28, 1937: Bridge open to automobiles. The toll was 50 cents one way, $1 round trip and 5 cents surcharge if there were more than 3 passengers
February 22, 1985: The one-billionth car crosses the bridge. The toll is $2 southbound on Friday and Saturday, $1 other days. No northbound toll
May 28, 1987: Bridge closed to vehicles for its fiftieth birthday. An estimated 300,000 pedestrians jammed the bridge
September 2, 2008: Toll increased to $6 southbound. No northbound toll.
April 2013: Human toll takers were replaced with an electronic system. This guide has details about the new way to pay Golden Gate Bridge tolls.
Golden Gate Bridge Facts: Paint
The Golden Gate Bridge's paint color is orange vermillion, also called international orange. Architect Irving Morrow selected the color because it blends with the bridge's setting
The bridge was fully painted when it was first built and then touched up for the next 27 years. The original paint was removed in 1965 because of corrosion and replaced with an inorganic zinc silicate primer and an acrylic emulsion topcoat, a project that took 30 years. Today, painters touch up the paint continuously
38 painters work on the bridge, along with 17 iron workers who replace corroding steel and rivets
The Golden Gate Bridge, symbol of San Francisco, engineering marvel, subject of many photographs, the result of one man's vision and persistence, spans the entrance to the San Francisco Bay. Learn a little about Golden Gate Bridge history.
Golden Gate Bridge History
For many years before the Golden Gate Bridge was built, the only way to get across San Francisco Bay was by ferry, and by the early twentieth century, the Bay was clogged with them.
In the 1920s, bridge builder, and engineer Joseph Strauss became convinced that a bridge should be built across the Golden Gate.
A lot of people opposed him, each had their own selfish reasons: the military, loggers, and the railroads. The engineering challenge was enormous – the Golden Gate Bridge area has winds of up to 60 miles per hour, and strong ocean currents sweep through a rugged canyon below the surface. It was in the middle of an economic collapse, money was scarce, and the San Francisco Bay Bridge was already under construction. In spite of everything, Strauss persisted, and Golden Gate Bridge history began when San Francisco voters overwhelmingly approved $35 million in bonds to construct the Golden Gate Bridge.
Building the Golden Gate Bridge
The now-familiar art deco design and International Red color were chosen, and construction began in 1933.
In 1937 the Golden Gate Bridge project was completed, a prominent date in San Francisco history. Strauss was a leader in building safety, making history with innovations including hard hats and daily sobriety tests. The Bay Bridge was being built at the same time it lost 24 lives while the Golden Gate Bridge lost only 12, an outstanding accomplishment in an era when one man was killed on most construction projects for every million spent.