Mackay Idaho
It's often been said that big things happen in big places, and I guess to an extent that's true.
But today I've found that big things happen in very little places too. We are in Mackay Idaho.
This is probably a town you've likely never heard of before. But if you are into ATVing, if you love dirt bikes, this is a place you need to see.  Come with me I want to you all about it today.
Nestled in a green valley in the heart of central Idaho. Mackay is a town few travelers stumble across by accident. Located well off the main thoroughfares of Interstates 15 and 84.
Mackay quietly goes about its business of farming, ranching, and the Main Street commerce common to rural hamlets of the West.
That unassuming exterior is only the introductory layer of what has become one of the most impressive off-highway destinations in the Rockies.
Combining history and adventure with some of the most striking landscapes anywhere in the world.
It is all accessible right from the center of town. This is the real Mackay Idaho. We're just more of a backcountry, go do your own thing.
If you aren't into backcountry then you probably have no business being here. There are people who have been here for 60 years and have absolutely no desire to be anywhere else. People are just very friendly and They have a great time here.
Mackay Started as a Mining Town:
Mackay started life like many Old West outposts, as a mining enclave. Even today some mining still occurs on the peaks to the south.
Most of the extraction industry has become little more than a proud part of the cities colorful history.
Remnants of that time have been carefully curated and placed on display for curious visitors to appreciate. While entire smelting operations long since abandoned to time and the elements dominate entire trail systems.
And that is where Mackay has come into the 21st Century like few other spots on the map. They have embraced off-highway travel, creating loop systems and branch trails wherever mining roads existed. ATVs are allowed on city streets, with OHV trails taking off in all directions right from town.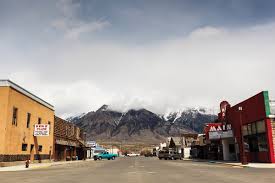 To the south, you can spend hours touring old mining facilities. Wandering around buildings that once produced ore by the ton, but now sit decayed in the summer breeze.
To the north, an entirely different world opens up to riders. Here you can pass through a rocky canyon that opens up on peaks that make you feel like you're in Switzerland.
In fact, one of the main trails in the area is called Swiss Alps. That is because of the distinct beauty and towering presence of the snow-kissed mountains. No matter where you turn you'll find open access and a view that will widen your eyes.
Recreational Things To Do: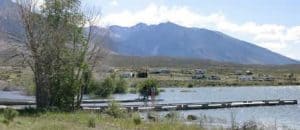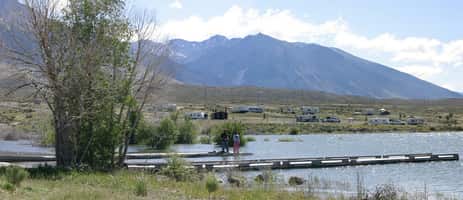 Just  North of town is Mackay reservoir it is about 4 miles from town. It is open year-round for fishing. It also offers some great recreational things to do.
The land surrounding the reservoir offers opportunities for boating, fishing, camping, and hunting, among other activities. The Big Lost River runs into it and out of it.
There are Rainbow Trout, Brook Trout, Bull Trout, Kokanee, Cutthroat Trout, Golden Trout, Mountain Whitefish, and Grayling. Just over the hill in Sun Valley is some more great fishing check it out. 
They are an ATV town and it's unlimited. You know, people can ride any place they want to ride and it's kind of up for grabs.
People don't believe me so I don't know what to tell them. They just need to come here and experience it.
Surprisingly enough, the ATV trails are just the beginning. Mackay is on the doorstep of some of the most iconic destinations in Idaho.
A half hour to the south you have Craters of the Moon. This a volcanic expanse of lava rock and caves that takes you back to the time of the dinosaurs or the early days of Earth's formation.
You could spend days here delving beneath the surface and finding hidden crags that few people have ever seen. Back in-town you have hiking, fishing, everything you'd expect from an area as diverse as this.
You never know what you're going to find when you take the highway less traveled through a state like Idaho. Where most people only get off the freeway for gas anyway.
It's places like Mackay that prove just how much adventure is out there over the horizon. It can be found in the most surprising places, no matter how small. 
People take it for granted here because they have lived here all their lives. The people that come here, they can't believe it I mean, the mountain scenery is just unreal.
Beautiful and Easy To Find: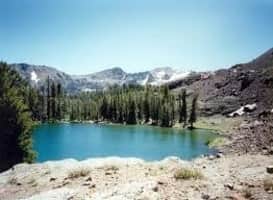 Absolutely unreal, and you can go to lakes and it's pretty much unlimited what you can do and see. You just have to go get it.  Sometimes the biggest adventures arrive in the smallest packages and that is definitely the case with Mackay Idaho.
I've been really surprised by the quality of the trails and the landscapes here. It's just absolutely incredible. It's also easy to find.
You just head west out of Idaho Falls on Highway 20. Then go for about an hour and a half to two hours, somewhere in there.
At the town of Arco highway, 20 turns into Highway 93 but it's the same road and about a half hour after Arco you're here.
It's small but they have RV parks, food, gas, everything you would need. Besides that, you will have access to all of these trails.
It's obviously a very ATV-friendly place and you need to make it you're next destination.