What size generator do I need? This is a very common question. Here is the answer There are Three Main Applications for Generators: Home Stand-by (i.e., emergency power), Recreational use (RV, camping, tailgating, boating, and Industrial/Emergency use (construction and rental)
What will you be, using your generator for?
A generator's size goes by wattage, as in the amount of power it can put out. When you're looking to find what size generator you need, it all depends on the intended usage. You will have to figure out what, are you needing to run with it?
Is it just in case of an emergency, or will it be used more often for things like recreation or tailgating? You will need to take several factors into account to be sure the generator you choose is the right one.
A portable generator may be sufficient for running a couple of small appliances or smaller power tools. But if you're looking to power up an RV or run a construction site then you might need some serious power.
Home Backup Generators:
People ask what, do I need to know
You should know that a home backup generator is a big investment. Here's what you need to know to make an informed decision about the home backup generator purchase.
What size am I going to need?
So How Do I Choose the Right Size Generator for Me?
You can usually find an online sizing calculator that can help you determine the right home backup generator for your unique needs.
If you can't find one then the best way is to work with one of the generator dealers. They can help you choose the right generator, and provide you with an in-home assessment.
What's Involved in Installing a Home Backup Generator?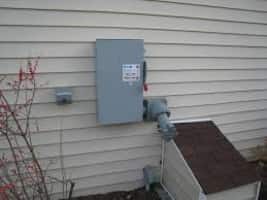 Installing your home backup generator is an exciting time. Your installer will have to prepare the area outside your home for them to place the generator.
Then they will run the natural gas or LP fuel lines, install the transfer switch, and make the necessary electrical connections.
And then they will make sure that your backup generator runs properly, and is ready for its first power outage.
What is nice about this is you don't have to worry about filling fuel cans and keeping them on hand. This could sometimes be a problem if the power is out and you can't refill them at a fuel depot or station.
How much is Everything Going to Cost?
Most home backup generators start around $1,600 and run up to $5,000.The cost of installation will vary by the system size, installation considerations, and your local building codes. We recommend getting a free, in-home assessment from a Generator dealer near you.
How Do I Get Started?
You can begin by exploring the full selection of home backup generators. Use a sizing guide to narrow down the selection. Then contact a dealer for a free, in-home assessment. And if you have any questions, you can chat with a generator representative.
Portable Generators for Backup Power
Portable generators are a welcome addition to many activities at home, at work, and away. In an emergency, portable generators can provide critical backup power for your home.
They can help you make camping and tailgating more enjoyable as well as comfortable. There are a lot of contractors that appreciate the flexibility that portable power brings to the job site.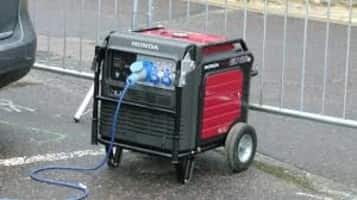 Many people get their first introduction to portable generators when they need emergency power. During a power outage, portable generators will make sure the most important items are working.
Things such as lights, refrigerators, and freezers, sump pumps, even heaters and window air conditioners—are up and running, minimizing any disruption to your lifestyle.
Affordable Power
For less than $1000, you can back up the most essential lights and appliances in your home.
Easy Operation
Portable generators are easy to operate in an emergency. Just add fuel, start the engine, and run extension cords to your most essential items.
Eliminate Extension Cords
With a manual transfer switch, you can safely deliver the generator's full power to your home's electrical panel, backing up even hard-wired appliances like your furnace or well pump.
Power DIY and Recreational Activities
When you are not backing up your home, your portable generator can provide power for DIY projects, outdoor parties, tailgating, and more.
Portable Generators for Work
THE POWER TO WORK
Utility power is not always where and when you need to tackle some home improvement projects.
Take a portable generator out to the far corner of your property instead of running lengthy extension cords. Or you can rely upon portable power if you need to turn off your utility power for some home improvement work.
What is Running and Surge Watts?
Trying to understand how generators are rated is the starting point for deciding how much wattage you need in a generator. It may seem confusing, but it's actually really easy.
Simply put, running (or rated) watts are the maximum number of watts that a generator can continuously output without damaging it. Running wattage is the consistent level of power that a device requires to run.
Devices like hot plates and light bulbs will typically only have one wattage rating. This is their required running watts.
Surge watts are the maximum amount of watts that a generator can output for a limited time. This allows the generator to ramp up its power output for a limited time to meet the demands of equipment and appliances that need more wattage to get started.
These are almost always items with electric motors like refrigerators, washers, and driers.
Most manufacturers will usually display the surge wattage as the wattage of the generator. Take the WEN 56200i Super Quiet 2000-Watt generator for example. It is labeled as a 2000 watt generator, but that is its surge power level, not the running power level.
The running wattage of this generator is only1600 watts, not 2,000 watts. Other ratings like maximum power are all referring to the surge watts of the generator and not the running watts. You can check the price here on Amazon.
This is not a big deal if you know what you're looking for. Just be sure that you read the label carefully and you will be good to go.
HERE IS A LINK TO SEE THE CHART THAT SHOWS YOU SOME WATTAGES
Portable Generators for Recreation
For some people roughing it is only fun until you can't use a coffee maker to make a cup of coffee or charge your cell phone. Bring a portable generator to your next tailgate party or camping trip and you'll have all the comforts of home wherever you are.
You can power kitchen appliances, charge personal electronics. You can even watch TV or listen to music a portable generator will help make sure the good times roll.
You can find portable generators that run in all sizes for your camping or tailgating needs. Some of the smaller ones are really quiet and are very lightweight.
Here are a Few Samples
I have seen one that is only 800 watts peak and 700 watts constant power this would be ok to watch TV or charge your laptop or cell phone. This one has a seven-hour run time on 2 liters of fuel and it only weighs 19 pounds. You can check the price here on Amazon.
But if you are using a microwave or other things like a coffee pot or hairdryer I would recommend at least 2,000 peak watts and 1900 running watts.
I personally use the Champion 2000-Watt Stackable Portable Inverter Generator. I like this one because I am on oxygen and I run this for that purpose.
It is also capable of hooking to another one with a para-link and then you have double the power.
This one is not that heavy only around 50 pounds si even my wife can lift this into the truck if need be.
With this in place, I can run my RV air conditioner if I need it, but if not I save fuel by only running one. You can check the price on Amazon.
Some people just prefer to go with a bigger generator like 3,000 watts and larger and that is ok but they use more fuel and are heavier to lift.
So when you figure out what you want to do with the generator. Then what size of generator do you need then you can make some decisions on which way to go.