Dry Camping Or Boondocking In An RV
First, it is important to establish the fact that "boondocking" could mean different things to different people.
There are individuals who see boondocking as dry camping, primitive camping, or wild camping.
But whatever you choose to call it, one thing is clear about boondocking; That you are camping outside of civilization with no access to amenities like power, water, sewer, and trash removal.
Meanwhile, you could also make available the above-mentioned amenities if you have need of them, but at your own expense.
Having said that much, let's now discuss what you would need to know – boondocking in an RV (Recreational Vehicle).
1) The Legal Premise:
It is a known fact that boondocking in an RV (Recreational Vehicle) is absolutely legal.
Key Note:
Even so, you're expected to comply with existing rules and policies set by government regulatory agencies overseeing land affairs (i.e BLM, Others) and also that of private individuals or firms owning parking lots.
2) Recreational Vehicle:
This for a good number of individuals is often seen as the ultimate way to shrink your footprint, disconnect, and truly surround yourself with nature.
(i.e. you could even save a lot of money while doing it).
For this same folk, boondocking is a hands-down favorite way to live and the ultimate or sole reason to own a Recreational Vehicle (RV).
In a bid to create a sense of humor, some people would even say "RV is not just a home but also a mobile office and work studio when boondocking."
Key Note:
Living and traveling full-time in a Recreational Vehicle is of course not free, but you would be surprised how affordable it can be.
That said, you actually have a lot of flexibility when it comes to expenses – depending on your budget and how you like to travel.
3) Rig:
If you want to boondock extensively while moving with the sun, and also being in temperate climes regularly, then a more sizable rig might be your best bet for the tour.
Meanwhile, your upfront cost will be higher but it will gradually decrease over time.
4) Food:
You obviously know that this is a very important thing you need.
The reason is that – you've been eating all through your entire life up until now and I assume you will want to continue to do so.
Key Note:
Even so, be sure to take plenty of food and keep all food items securely packed away inside your vehicle.
Otherwise, bring your own bear-resistant containers, seeing that there's no available bear-proof storage facility situated at the boondocking sites.
5) Water:
Regardless of where you're going, you'll need to think about hydration.
If you're only going to be camping near streams, you could go minimalist and bring a backpacker style water filter or iodine tablets.
Otherwise, you'll need to bring your own water. If your RV has some smaller freshwater tanks you can carry some 7-gallon plastic containers for some extra water.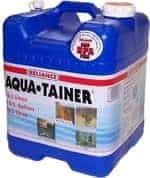 Also have in mind that you'll obviously need water for drinking, cooking, cleaning dishes, possibly bathing, et cetera.
It is also paramount to note that water conservation is very essential while boondocking.
However, that doesn't mean you can't shower or live normally.
So, with a few very affordable adjustments you can cut your water consumption in half without having to make a sacrifice.
Helpful Tips:
Meanwhile, it is okay to switch to a low flow showerhead like an Oxygenic and install a shutoff valve so you can turn off the water while lathering up.
With these two simple and inexpensive changes combined, you could save a ton of water without losing water pressure.
In fact, you can even take a "regular" shower and only use a couple of gallons of water.
An unexpected benefit is – you never run out of hot water, even with your little six (6) gallon propane/electric hot water tank.
In the same vein, most hardware stores sell faucet aerators but it's almost impossible to find the best ones.
However, you can still order the 1.0 GPM faucet aerators for only a few bucks or so online.
Key Note:
Meanwhile, in a bid to switch over to low flow aerators (1.5gpm or less), you're less likely to feel guilty about washing your hands and dishes as well.
Some individuals would even say paper plates are a waste and no fun, we'd much rather use dishes.
Undoubtedly, this easy switch reduces water consumption to the barest minimum.
P.S – For doing dishes and any general cleanups outside, a "Solar Shower" is highly recommended. Seeing that it is easy to take into town for refills, the water is also warm and maybe hot without using any electricity).
6) Power:
Seeing that you're considering boondocking in an RV, you might also need a power source for lighting purposes.
I'd also like you to know that while boondocking in extremely cold or hot temperatures, you'll need to run a space heater or the air conditioner to stay comfortable.
If you work at home on the road as some folks do, you'll need to charge your computer and other devices.
That said, there are basically three recommended ways to getting enough power while boondocking in an RV.
1) Generator:
It is important to know that your RV (Recreational Vehicle) may come with an onboard generator.
Meanwhile, if your RV is a fifth wheel, you would need to purchase one separately.
Some individuals would still prefer to bring along their gas-powered generator for additional power even if their motorhome came with an onboard propane generator.
The reason is that the propane tends to burn quickly, so they like the additional generator for back up.
Plus, it's much easier to take the gas generator in their vehicle to refill it than it is to take the whole RV to refill the propane tanks.
That perhaps could be something that you may want to consider doing as well. You might want to check out our recommended items. 
2) Upgrade Your RV's Batteries:
It is often being recommended by many people to upgrade your RV's batteries for longer usage.
Meanwhile, there are a whole lot of options but the golf cart batteries are a great and affordable option.
3) Solar Panels:
It is quite obvious that solar panels are a pretty great environmentally friendly way to increase your power supply while boondocking.
That being said, RV (Recreational Vehicle) batteries can only supply a limited amount of power.
On the other hand, generators are loud and as we mentioned, can burn through propane or gas quickly.
In addition, solar technology continues to improve and the price of solar setups continues to drop.
The Winnebago Navion comes with 200 watts of solar already installed.
You could as well purchase these panels to ensure you are not lacking power in any way.
They are also super light-weight and are a breeze to install.
7) Safety:
It is commonly said by most people who boondock, "We've never felt unsafe while boondocking in an RV."
But however, it's important to note that boondocking in desolate spots can put you at risk for encountering wild animals.
It could also put you out of cell phone service and far away from help in the case of an emergency.
So, it is very essential that you take extra precaution for your safety into consideration.
Key Note:
Even so, it is recommended – you carry bear spray, knowing where the nearest services are, telling loved ones your exact location, et cetera.
Many people say they haven't heard of a single boondocking horror story. So as long as you're smart and careful, you'll be fine.
8) Cellular Service:
Another tough challenge that dry camping presents is in finding spots that still have good cellular service.
The reason is that, if you're like some folks, you don't want to be that off the grid. They work from there RV while on the road and their jobs rely on the good cell signal.
The Campendium review is an app for your smartphone that will let you find RV campgrounds. These campgrounds will sometimes have a cell signal listed, but that's not always the most reliable source.
As it regards the coverage, it is obvious that "app" permits you to overlay and compare cellular coverage maps for AT&T, Verizon, Sprint, and T-Mobile as well.
That being said, before you make any trip to a new location, you can research whether or not you'll have a signal.
You could also use a combination of Verizon and AT&T.
So rather than looking at both of the carrier websites, you could access it in one spot with the Coverage App.
More specifically, there's obviously no Internet service needed to operate the app – the coverage maps are saved for quick access.
Key Note:
Meanwhile, if having a good signal is important to you as well, it is recommended that you get WeBoost's Drive 4G-X.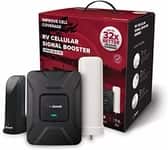 It is indeed a powerful, professional-grade 4G vehicle booster.
Also note that "Drive 4G-X" helps you get better voice and data with fewer dropped calls, improved voice quality, faster uploads, and downloads.
It also allows up to two (2) hours additional talk time in weak signal areas.
Furthermore, WeBoost boosts cell signals up to 32 x, enhances 4G LTE and 3G signals for Verizon, AT&T, Sprint, T-Mobile, US Cellular, Straight Talk and much more.
Nonetheless, virtually all components that will be needed for installation are included.
That said, all you're expected to do is – simply plug the Drive 4G-X into the car's power supply and place the magnetic antenna on the roof.
9) Location:
It is imperative to know that spotting comfortable temperatures while dry camping could sometimes be very difficult.
Apart from you carrying the appropriate gear, also look for moderate natural temperatures.
Meanwhile, if it immediately it begins to get hot, just look for places with some shade and elevation.
On the flip side, when the weather eventually turns cool, turn to sites in the desert.
Regardless of how perfectly insulated your gear may seem to be, the best system of climate control is always Mother Nature.
Key Note:
Aside from your standard camping equipment and toiletries, remember to also bring extra clothes, a portable stove, plenty of toilet paper and baby wipes.
Also, bring with you whatever car charger(s) or adapter(s) that you may need.
Additionally, as a boondocking etiquette, always remember to be respectful of others.
Be sure to also use existing roads, camping spots, pack in/pack out sections, share the space, and obviously leave the area as you found it.