Here are some items that come in handy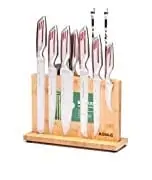 Magnetic Knife Holder
This is a magnetic Knife holder that is freestanding or you can get one that mounts to your wall. You can check out others here at Amazon.
Stove Top Cutting Board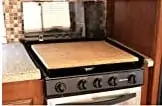 This stovetop cutting board is made of bamboo. It resists moisture and holds its shape. It fits 3 and 4 burner RV stoves it measures 19.5″ x 17″ x 0.75″ You can check the prices here on Amazon
Shower Caddy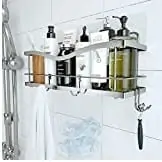 This is a must-have for your shower. It's Perfect For Organizing Your Everyday Items and Keeps Them Accessible Without Cluttering Your Counter. It Sticks To Most Surfaces, Including Glass, Mirror, Tile, It Comes Off Leaving No Holes Or Sticky Residue,
You can check others here on Amazon
Command Wall Hooks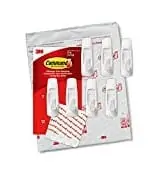 These wall hangers are strong, and Versatile Command Utility Hooks hold strongly on a variety of indoor surfaces including painted walls, finished wood, glass, tile, metal, and other smooth surfaces. Check prices here on Amazon
Paper Towel Holder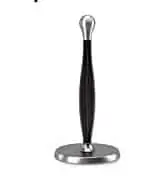 This is an easy to load paper towel holder, you can slide any standard size paper towel roll onto the spine of the Tug then once you pull out the piece of the paper towel you want, give a firm 'tug' from the top down to tear the sheet away it has a
WEIGHTED BASE. You Can Check Out More just click view products below.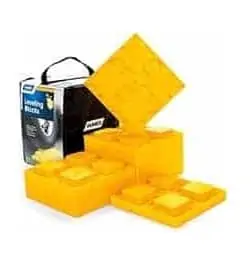 Leveling Blocks
These Camco Leveling Blocks come in a 10-pack. This allows you to stack the interlocking blocks to the desired height for safe and easy leveling. These blocks can be used with single wheels, double wheels, hydraulic jacks, tongue jacks, stabilizer jacks, 5th wheel jacks, and tandem axles you can check out more here at Amazon.
Velcro Straps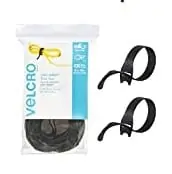 These are perfect for computer, appliance or electric cord and wire management and storage. Wraps onto itself for a secure hold
100 Pack of adjustable, reusable, low profile Black VELCRO Brand Thin Ties you can check prices here on Amazon
Sewer Caddy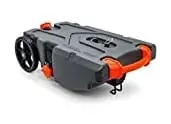 This ready-to-use kit includes everything needed to transport waste from your RV or trailer to a dump station when you're parked too far away for an RV sewer hose Kit. It includes the accessories to clean, maintain, and store the tote tank when not in use. There are different sizes. Other great sewer items here at Amazon
RV Disposable Gloves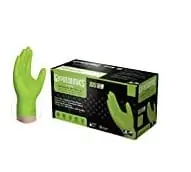 These gloves are great when it comes time to dump your RV. They come in a
pack of 100 gloves. They are latex-free and free of talcum powder that can dry out your hands.
Protect and keep you from continuously having to spend time washing your hands. They keep your hands clean and add grip. Check out different styles and sizes here on Amazon
Holding Tank Deodorizer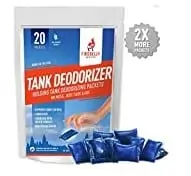 This will help deodorize your RV sewer tanks and help break down and dissolve the toilet paper. Put in one holding tank treatment pack per 40-gallon black wastewater tank in any travel trailer, or RV sewer tank, even motor homes, 5th wheel, or portable potty as a septic odor eliminator. You can check them out here at Amazon
Wire Dish Holder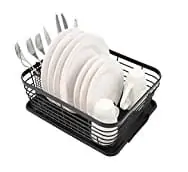 This wire rack dish holder is great for your RV it is only 17.72 inches long x 11.81 inches wide x 5.91 inches deep and holds your plates and cups. My wife loves hers. You can check out more here at Amazon
Sewer Cap With Handle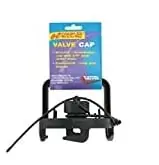 This sewer cap has a handle and it has a 3/4″ Garden Hose connection with cap for gray water drainage
Outside Diameter: 3.9″
Color: Black
You can check out more here at Amazon
Drinking Water Hose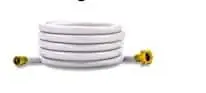 Camco's Taste PURE Drinking Water Hose is great for camping, RVing, This drinking water safe hose is made of PVC and is BPA and Phthalate free, and also won't give your water that 'garden hose taste' Check p
Camco RV Elbow 4-in-1 Adapter
This securely connects your RV sewer securely into the dump station connection, you can check out others here at Amazon
Water Pressure Regulator
Camco RV Brass Inline Water Pressure Regulator- Helps protect RV plumbing and hoses from high-pressure city water. Attaches easily with 3/4″ garden hose threads. Durable brass construction that is drinking water safe. Reduces water pressure to a safe and consistent 40 50 pounds of pressure. CSA low lead content certified. You can check out others here at Amazon
RV Sewer Hose Support
The Ultimate Protection and Support for Your Sewer Hose: This lifts and cradles your sewer hose while in connection from your RV to the dump station. It keeps your sewer hose off the ground and prevents potential damage or punctures to your RV or camper sewer hose. Click here to see more RV sewer items on Amazon
RV Surge Protector
This will help protect your electrical equipment from improperly wired electrical boxes. This is an inexpensive 30 amp surge protector. It has diagnostic lights for visual indication of faults before you connect your RV's Power Cord to the electrical box. There are other sizes available here on Amazon
Camco 40043 Taste Pure RV Marine Water Filter
This filter is great with Flexible Hose Protector reduces bad taste, odor, chlorine, and sediment in drinking water with a 20-micron sediment filter. Also features GAC (Granular Activated Carbon) filtration in combination with KDF to prevent undesirable bacteria growth when the filter is not in use. You can check out others here at amazon